How to Make Egg Fricassee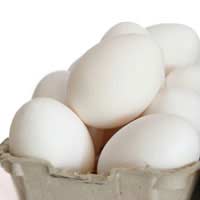 A fricassee is a culinary term for a dish that's about halfway between sauté and stew. Chicken is probably the ingredient that is most often used in fricassee. What came first though: the chicken or the egg?
In this recipe suggestion, we're going for the egg! The meal is easy, quick and not as time consuming as chicken fricassee.
This recipe makes very good use of fresh free-range eggs (which is great if you have laying hens or have bought more eggs than you are likely to need before their use by date). Egg Fricassee makes a welcome change of first course, light lunch, or simple supper dish.
Egg Fricasee
8 large eggs
8 fresh parsley sprigs
8 fresh tarragon sprigs
200ml milk
25g unsalted butter
30ml plain flour
142ml soured cream
Small piece of onion
Small piece of carrot
1 Bay leaf
6 peppercorns
Salt and pepper
212g packet of frozen puff pastry-thawed (optional)
First, hard-boil the eggs. When they have cooled sufficiently (this is best done by plunging them into a bowl of cold water) remove the shells.
Prepare the puff pastry by rolling it out to about 25.5 x 10cm on a lightly floured board or worktop. Divide the rolled out rectangle into two long strips and cut each strip into triangles; you will probably get 10 triangles from each strip.
Bake the pastry triangles according to packet instructions. This will take no more than 15 minutes in an oven preheated to 200ºC.
Bring the milk to the boil in a saucepan with the onion piece, carrot piece, bay leaf, half the parsley and tarragon and all the peppercorns. Remove from the heat as soon as the liquid comes to the boil and leave the pan to stand for 10 minutes.
Melt the butter over gentle heat in a separate pan. Gently stir in the flour then remove pan from the heat. Gradually add the milk to the butter and flour roux-through a sieve. Next, add the soured cream to the pan along with salt and pepper. Return your pan to the heat and keep stirring until the sauce begins to thicken, then, simmer gently for 3-4 minutes.
Next, slice the eggs but keep one of the egg yolks whole. Add the slices of egg to the sauce and simmer it gently to warm the eggs.Transfer to a warmed serving dish or serve straight from the pan if you prefer.
To serve
Gently mash the one whole egg yolk with a fork and sprinkle it along the centre of your finished dish to garnish. Add the finishing touches by placing the remaining herb sprigs around the dish. Serve as it is for a light lunch or supper.
To make your egg fricassee a more substantial meal, or to serve as part of a buffet, offer it with a colourful mixed salad. If you have no pastry, or simply don't want pastry with this dish, substitute the pastry triangles with crusty bread, baked potatoes, fries or toasted Italian breads. Something crisp adds a welcome contrast to the creamy egg mixture, without detracting from the subtle flavours.
Easy Dinner Recipes is sponsored by Purely Energy, who have funded a lot of our content. If you are looking for a low cost business energy supplier, take a look at their website.
EASY DINNER RECIPES IS FOR SALE.
This website is for sale [more info].
You might also like...