Sausage and Bacon Jambalaya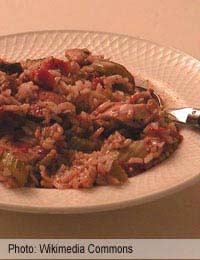 This is one of those dishes that feed the gang with minimum fuss and expense; even when the fridge looks a little bare! It's useful to keep a supply of sausages that can be cooked from frozen in the freezer.
'Real' jambalaya is a Creole dish that includes shrimps, ham, rice and onions, but this version is great for re-fuelling hungry teenagers when they descend on your kitchen unexpectedly-and equally useful as a quick dinner dish for all the family. (Pasta can be substituted with rice if your particular gang prefers it.)
Ingredients for 4-6
175g Patna rice (or any long grain rice you have available)
450g/500g chipolata sausages
2 rindless rashers of bacon per person
1 large onion or bunch of salad onions, peeled/trimmed and chopped
2/3 sticks of celery (optional)
2 cloves garlic
1 red pepper
1 250g can tomatoes
1 250g can kidney beans
Tablespoon olive oil or cooking oil
Pinch of cayenne pepper
Method
Grill the sausages until they are completely cooked, then, remove them from the heat.
Heat the oil in a large frying pan or skillet and gently fry the chopped onion for about 3-4 minutes, until it softens and becomes translucent.
Add the sliced red pepper and crushed garlic...
Fry this together with the onion for about 3-4 minutes over a gentle heat; until the red pepper softens. Stir with a wooden spoon or spatula to avoid over-cooking the onion and pepper. Add the tomatoes, drained kidney beans and celery to the pan and gently simmer the ingredients. Season the dish with salt and a pinch of cayenne pepper if you want to give it extra kick.
Prepare and cook the rice...
according to packet instructions, but remove it from the heat when it is just tender, or it will become too starchy and glutinous. When the rice is cooked, rinse with boiling water (as per instructions) then, drain thoroughly and add it to the pan with the tomatoes, onions, kidney beans, pepper and garlic. Cut the cooked sausages in half and add them to the pan. Grill the bacon until crispy.
When the rice dish has absorbed most of the juice from the pan and the sausages are heated through, the dish is ready to be served. The ingredients should have a moist sheen to them but not be drowning in liquid. (Add a little stock if it starts to dry out during cooking.) Serve straight from the pan or transfer to a warm serving dish. Crumble the crispy bacon all over the top of the sausage and rice dish. Serve immediately.
Vegetarian Option
This dish can be made with any type of sausages you like. Use good quality meat-free sausages if preferred and omit the bacon. Or, add more peppers, celery and kidney beans.
Oven Cooked Jambalaya
If you don't have time to stand over the hob, you can cook a similar jambalaya in the oven:
Preheat the oven to 180C.
Cut the sausages in half then brown them all over in a casserole, or similar type of oven dish, on the hob.
Roll the bacon up into individual rolls and add to the sausage/onion. Cook for 5 minutes.
Next, pour in the tinned tomatoes and drained kidney beans. Add the chopped celery and seasoning.
Place the dish in the oven. Cook the rice until just tender.
Drain and rinse. Add to the sausage mixture in your casserole dish, combine all the ingredients together.
Cover the dish with a lid or baking foil and return it to the oven for 10-15 minutes.
Check that it doesn't dry out! Serve immediately.
This meal is fairly cheap, easy to put together at short notice, filling and there's not too much washing up.
Easy Dinner Recipes is sponsored by Purely Energy, who have funded a lot of our content. If you are looking for a low cost business energy supplier, take a look at their website.
EASY DINNER RECIPES IS FOR SALE.
This website is for sale [more info].
You might also like...
True to the description not much washing up at the end - meal enjoyed by all of us
none
- 22-May-11 @ 4:58 PM