Is Britain Eating More Healthily?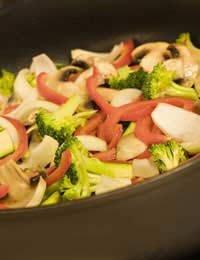 The latest results of the DEFRA National Food Survey one of the most important studies of trends in food consumption in Britain reveals that there is continuing progress towards a healthier national diet. While coronary heart disease (CHD) is responsible for more than 180,000 deaths a year, it's declining fairly rapidly. But there's a big gap between what we eat at home and what we eat when we're out and in that gap lies a lot of the unhealthy eat that we indulge in
Why is our diet better at home than in restaurants?
Partly because codes of practice to improve public knowledge of the consumption of foods are still patchy . . . while supermarkets have started to label foods with percentages of saturated fat, sugar, fibre and salt, they haven't all agreed to use a standard system, and restaurants and fast food outlets only have a voluntary scheme which means most use no ingredient labelling at all.
In the last two decades we have gone from eating 4% of our meals outside the home to eating more than a quarter of our meals away from the family dining table. This means that we have little or no idea of the fat, sugar and salt in more than 25% of our food – and because we enjoy sugary, salty and fatty foods for their 'mouth appeal' we are more inclined to indulge our appetites when we don't see what goes into a recipe. And that, in turn, means that we can prefer to gratify our appetites with less healthy food because 'out of sight is out of mind'.
Making home food taste like restaurant food
The DEFRA research shows that some of our most popular eating-out dishes, such as chips, stir fries and desserts, are worryingly high in saturated fat and salt, even desserts, such as cheesecakes and brownies, can have more salt than the average person's recommended daily allowance. The problem is that if we get used to the stronger flavour of restaurant food, it can make our home-cooked meals seem blander or less exciting, so making clever substitutions of healthy ingredients for less healthy ones can make your recipes more appealing to the family.
Sugar substitutes:
1.
Rather than using sugar to sweeten drinks, consider using artificial sweetener. If you prefer not to use 'fake sugar' you can try adding honey to drinks.
2. Many cakes and baked goods use more sugar than they need to because they rely on the creaming of sugar with fat to create air bubbles that make the food rise when cooked. Experiment with removing up to half the sugar, but adding a teaspoon of baking powder with the flour to make those air bubbles happen. You may be surprised at how sweet the dish still tastes.
3. Honey can be substituted for sugar in many recipes, and because it has more fructose, which is sweeter than sugar, you need less of it. Also 2% of honey is minerals, vitamins, pollen and protein, none of which appear in sugar.
Fat substitutes
Sunflower oil is better for you than vegetable oils because it has more unsaturated fats
Try reducing the butter or margarine you add to mashed potatoes by adding a teaspoon of olive oil and a tablespoon of natural yoghurt instead.
Many recipes can have their butter content reduced by a quarter if you add another form of moisture such as apple puree for sweet recipes, or natural yoghurt for savoury ones
Dip bread in a mix of herbed vinegar and olive oil rather than spreading it with butter
Salt Substitutes
Seasoning salts like garlic salt, celery salt or onion salt or mixed peppercorns blended with sea salt can all be used instead of pure table salt to add more flavour. Because a proportion of each 'pinch' is not actually salt, you naturally reduce your salt consumption.
Herbs and Spices
For many dishes you can try using herbal seasonings, such as garlic powder, five spice powder, herbes de Provence or celery seeds in place of salt, or even better, try offering finely chopped fresh herbs, celery leaves or spring onions in place of salt.
You might also like...