Chilli Con carne - For Adults and Children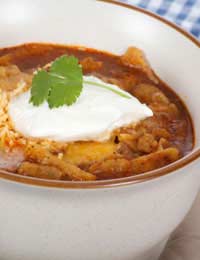 Chilli con carne is a spicy filling meal that won't break the bank to make. Suitable for one person meals, family dinners and even a hot meal for a party buffet. Some people do not like kidney beans or do not like their chilli so spicy. Here is a way that you can split one recipe into two meals that can cook along side of each other and suits both young and old.
Mince Beef
It is possible to purchase lean beef and also the economy minced beef that is a little more fatty. Do not think that you always have to buy the best when purchasing minced beef. Simply drain off the fat when first cooking and it will be as healthy as the more expensive varieties.
Bulking Out
You can make your chilli con carne even more interesting by adding vegetables and lentils as in this recipe to make it even more full of flavour.
Freezer Cooking
Why not prepare a larger batch and freeze portions for future meals when you are in a hurry or have those unexpected visitors?
Serves 6
Ingredients
900g minced beef
Two large onion, peeled and diced
A little oil for frying the onion.
Two large carrots, peeled and diced
200 g mushrooms cleaned and chopped
Chilli powder
Two tins of chopped tomatoes
One tin of kidney beans
One tin of baked beans
One cup of red lentils
One cup of frozen peas
Two beef stock cubes
Tomato paste
Water if needed
To Prepare
Put the lentils into a pan, cover with water, bring to the boil and simmer until soft.
At the same time put the oil into a large frying pan add the onions and carrots and cook until the onion is clear. Add the minced beef and cook on a medium heat until the mince is brown but not over cooked.
At this point divide into two large pans.
Add 2 teaspoons of chilli powder to one pan and one teaspoon of chilli powder to the other pan. Remember which pan is which.
Coat the contents of each pan with the chilli powder and cook for two minutes.Add one can of chopped tomatoes to each pan along with a stock cube and half of the cooked lentils. In one pan add the kidney beans and to the pan with less chilli powder add the baked beans.Next add one tablespoon of tomato paste to each pan plus water if the mix is looking too thick.Simmer both pans for 30 minutes before adding the mushrooms. If the mix is a little watery it is possible to thicken with gravy granules or with more tomato paste.
To Serve
Serve with brown rice that needs to be put on to cook about twenty minutes before the chilli is ready to serve. Crusty bread is another option especially if serving as a party buffet.
Slow Cook
If you prefer you can prepare both chillies and place them in a slow cooker or a low oven and leave to cook slowly while you are out for the afternoon or at work. Both ways of cooking are as good as each other.
Vegetarian Option
If you have vegetarian guests why not cook the same recipe omitting the minced beef and adding more pulses? Chick peas are also a good addition and can be added at the same time as the kidney beans or baked beans.
You might also like...
Ermmmunless i'm being thick, i cant see where it says to add the peas???? Am making it already so have just thrown them in lol. Smells ymmy though
Mrs H
- 17-Sep-13 @ 5:08 PM