Chinese Salad With Mini Rice and Sesame Pancakes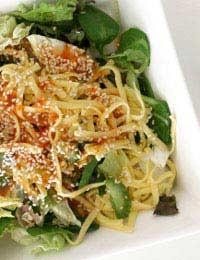 Chinese salad with mini rice and pancakes is becoming an increasingly popular salad, as people look to the far East to spice up their salads and make them more exciting. Like many far eastern salads, the Chinese salad with mini rice and sesame pancakes is not only relatively quick to make but also healthy and relatively low in calories.
Chinese Salad Recipe
To make your Chinese salad with mini rice and sesame pancakes, for 2 servings, you will require the following ingredients:
A lightly beaten egg
1/2 a teaspoon of soy sauce
60g of pak choi leaves that, if quite large, have been halved lengthways
1/2 an orange
2 tablespoons of groundnut or, if that is not available, some sunflower oil will suffice
150g of a finely shredded red cabbage
200g of Chinese cabbage
100g of small pieces of walnut
50g of long grain rice
1 tablespoon of sunflower oil
1 tablespoon of sesame seeds
90ml of vegetable stock that has been made using a stock cube
How to Make Your Chinese Salad
The first thing you need to do to make your Chinese salad with mini rice and pancakes is to take the rice and the stock and put them together in a pan, which you must then bring to the boil. Once they have been brought to the boil stir them together before covering and leaving to gently simmer for approximately 15 minutes, or until the rice has absorbed all the stock and become tender.
Next you need to reduce the heat to a low setting and stir the rice, but only stir a few times, for approximately 2 minutes. This will assist in the drying of the rice. Once you have completed this stage of the process take the rice and place it in a large bowl. This will enable the rice to cool down, which should take approximately 10 minutes.
Next you will need to grate approximately 1/4 of a teaspoon of orange zest and place in a bowl before squeezing the juice from the orange and also adding this to the zest. After this take the walnut, sunflower oil, soy sauce and groundnut, blending them together before adding the red cabbage. This will assist in the softening of the red cabbage.
Afterwards place the pieces of walnut in a large non stick frying pan and using a medium heat, toast the walnuts for approximately 5 minutes, ensuring that the walnuts are turned at regular intervals to avoid burning. Once this has been completed remove the walnuts from the frying pan and put on a small plate.
The mini pancakes are made by taking the already cooked rice and adding the beaten egg and sesame seeds to it before blending together. Next take a frying pan and heat the sunflower oil before pouring in small amounts of the rice and egg mixture, which will then form into little pancakes. You will need to cook these for approximately 3 minutes, using a medium to high setting, until they take on a light brown appearance. After this turn the pancakes over and cook the other side for approximately 2 minutes.
Take the pak choi, Chinese cabbage and walnuts and mix with the marinated red cabbage, ensuring that a good coating of dressing has been applied. Then serve the salad, making sure that each salad is topped with the sesame pancakes and rice.
You might also like...