Cooking for Buffets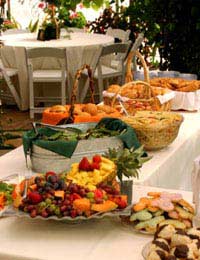 When cooking for many people, one of your primary concerns has to be hygiene. Just as you have to scale up recipes to cater to larger numbers, using a domestic kitchen to cook for many folk scales up the risk of bacterial problems occurring. This happens because:
Larger amounts of food take longer to cook and you might skimp on this timescale to get the next dish in the oven. Use a food thermometer to be sure food is really cooked right through.
Larger amounts of food take longer to cool, and if you're chilling them, they may raise your fridge temperature above that which stops bacterial multiplication. When catering for a buffet, it's always good to turn your fridge a bit higher so that it feels really arctic when you open the door. But remember to turn it down again afterwards!
You start to rush and don't always wash your hands and utensils between cooking stages, transferring any lurking bacteria from one dish to another with disastrous results.
You are transporting foods to another venue and fail to keep them properly hot or cold during that journey. Use insulated bags and boxes and don't keep food hanging around in the car.
How to Scale Up a Recipe
The majority of recipes can easily be scaled up from two to twenty, so that you can cook your favourite dish for a large group. It's important to remember that many ingredients don't need to be scaled up: when you fry two eggs in a tablespoon of butter, for example, you don't need to fry six eggs in three tablespoons – as long as the fat covers the pan, it doesn't have to be multiplied up.
Cooking times also may not need to be scaled up in the same way as ingredients – if you double the size of a cake, you may need to add ten minutes to the cooking time and use a bigger tin, but because the cake shouldn't be much deeper (depth affects cooking time more than anything else), cooking it for twice the amount of time would only burn it.
Planning Ahead for a Buffet
Start by thinking about where and how the food will be laid out. Don't prepare too much to cover the table space you have, but always have something (a tray of salad is ideal) to fill a gap when one food stuff runs out.
List all the dishes you plan to cook and check that they have a good range of ingredients, colours, textures and tastes. Now make your shopping list.
Do as much work ahead of time as possible: wash, dry, slice and chop salad ingredients and store in boxes and bags in the fridge.Plan cooking times, allowing an extra five minutes per recipe for cleaning the area and washing hands and utensils between stages.
Think about how you will deal with leftovers – are you going to give them out as doggy bags, or keep them in the fridge – whatever your choice, you need to plan ahead for it.
Recipes That Work for Buffets
Potato Salad
– a richly seasoned potato salad is easy to make in advance and store in the fridge – made with an oil and vinegar dressing instead of mayonnaise it is suitable for vegetarians too.
Crockpot Chilli – making chilli in a crockpot allows it to be kept warm throughout the event – put a spoon with an insulated handle into the pot and allow people to serve themselves into small bowls, and add their own sour cream dressing. Cut tortillas into finger-sized triangles so people can scoop the chilli onto them to eat it.
Fresh Berries and Cream – instead of making a dessert, buy bowls of seasonal berries and drizzle them with maple syrup, your guests can help themselves to fruit and cream in small coupe dishes or even paper bowls to save on washing up.
You might also like...