How to Cook Fusion Food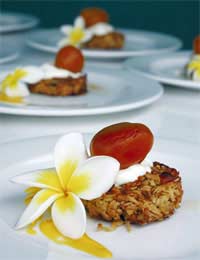 Fusion food is widely misunderstood. The simplest definition is to describe it as any dish that combines ingredients or techniques from distinct cuisines but this does not tell the whole story.
No cuisine exists in isolation and throughout history every culture has adapted itself to the arrival of new ingredients and new styles. This exchange of culinary knowledge is different from what we now think of as fusion food because historically, cuisines simply reacted to the introduction of novelty, fitting new things into their existing food culture. Modern fusion starts from the position of having every style and ingredient available and selects them in deliberate combination that does not necessarily owe anything to regional traditions.
The proliferation of fusion cuisine is a consequence of increasing globalisation, as virtually any ingredient can now be transported anywhere in the world while still fresh. Likewise, the worldwide dissemination of recipes and techniques through modern communications has meant that previously exotic and mysterious cooking practices have now become commonplace.
History of Fusion
Fusion cuisine as it is recognised today began to emerge in the 1970s in the kitchens of California and the subsequent explosion in demand for this exciting new form led to a multitude of badly conceived and poorly executed dishes appearing in gimmicky experimental restaurants. This earned fusion food a bad reputation that still clings to it today.
A huge volume of culinary snobbery has been directed at this hybrid form, some deservedly, some not. Complaints that it pollutes the authenticity of traditional cuisines and shows no respect for the long-standing recipes that it breaks down and reconstructs are fundamentally baseless. French cuisine is not going to disappear because a chef somewhere adds soy sauce to a beurre blanc. It is undeniable however, that experiments in fusion cooking have resulted in some truly awful creations.
Resistance to fusion cuisine has been strongest where there is a well-established culinary heritage already in place. The reverse is also true, fusion food has been most enthusiastically embraced in places where there is little or no indigenous culinary tradition to draw on, especially where immigrants from various backgrounds have come together. Modern Australian cuisine is a great example of this process in action, taking European ideas about the composition and presentation of food and using locally sourced ingredients such as macadamia nuts and barramundi to create unique dishes. Much of the best of modern American cuisine is also based on the same principle.
Cooking Fusion
For those learning to cook, fusion cuisine presents a bewildering array of potential ingredients and cooking styles. Choosing the right elements in artful combination is a skill that can only be learned through practice though there are by now many recognised examples of cross-cuisine synthesis that really work and provide a good place for the dabbler to start. It should go without saying that before you attempt to experiment with a fusion version of a dish, you should first have a good understanding of what makes the original version work in the first place.
Simply adding one out-of-place ingredient to a dish does not constitute fusion cooking. For example, stirring wasabi paste through a risotto will just give you wasabi-flavoured risotto. It may be novel, but it is hardly the coming together of culinary traditions that is usually implied by fusion cuisine. More challenging, but more rewarding is the combination of whole families of flavours. Some ideas of this sort are:
Stir-fried thai-style beef noodles dressed with a traditional French mustard vinaigrette
Warm salad of confit duck rubbed with za'atar seasoning
Red curry sauce with chorizo, leek and mussels served over baked polenta
A simple rocket and parmesan salad with toasted sesame seeds and a miso dressing
Greek-style stir-fried rice with feta, olives, spinach and cherry tomatoes
Experimentation is the means by which fusion cuisine was born and more than any other kind of cooking it encourages continued innovation. There are plenty of potential pitfalls to beware of, such as coconut milk with pasta or pomegranate risotto, but trial and error is the best way to find out what works for you.
You might also like...