Oriental Chicken Salad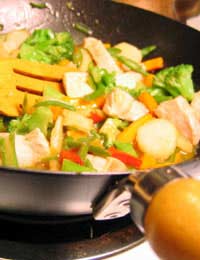 Oriental chicken salad is a delicious and healthy salad that can be made in less than an 1 hour.
To serve 2 you will need:
2 lean chicken breasts that are both skinless and boneless
1/2 a tablespoon of soy sauce
1/2 a garlic clove that has been crushed
1 tablespoon of clear honey
1/2 a tablespoon of sesame oil
1 tablespoon of rice vinegar
1/2 a bunch of finely shredded spring onions
A medium piece of ginger that has been grated and peeled
1/4 of Chinese lettuce that has been finely shredded
A medium carrot that has been sliced into matchsticks
1/2 a tablespoon of toasted sesame seeds
1/2 a cucumber that has been peeled, had its seeds removed and halved
A medium bunch of coriander that has been chopped
First take the chicken breasts and slice them into thin strips before mixing together with the soy sauce, honey and vinegar. Once you have done this leave the ingredients to marinate in a bowl for approximately 45 minutes. Next take the sesame oil and heat in a large frying pan before placing the chicken breasts in the frying pan and cooking at a high temperature for approximately 7 minutes. By this time the chicken breasts should have been well cooked through, but it is important to confirm this. Once the chicken breasts have been removed from the pan you should leave any residue marinade in the pan, as this will come in useful later as salad dressing.
Once this has been completed take a large bowl and toss with the remaining ingredients before eating warm. If you would prefer to eat your Oriental chicken salad cold you can leave the cooked chicken to cool in the marinade before mixing with the remaining ingredients.
Variations to the Oriental Chicken Salad
A variation on the Oriental chicken salad is to use chilli pepper, lime juice, figs, mint and red capsicum(sweet pepper). This will take between approximately 1 hour and 1 hour and 15 minutes to prepare.
To serve 2 you will need:
30ml of clear honey
1/2 a chilli pepper that has had its seeds removed and been finely chopped
2 tablespoons of lime juice
2 dried figs that have had their stems removed and been cut lengthways
1 teaspoon of freshly grated root ginger
2 teaspoon of soy sauce
1/2 a medium sized cucumber that has had its seeds removed and cut into slices
1/2 a tablespoon of chopped mint
1 red capsicum that has had its seeds removed and thinly sliced
250g of chicken meat that has been cooked and shredded
Some mixed salad leaves
2 spring onions that have been thinly sliced
1/4 of a cantaloupe melon that has been diced, peeled and had its seeds removed
First take a large bowl and mix together the honey, lime juice, ginger, soy sauce and chilli. Once well mixed add the onions, figs, chicken and mint, ensuring that everything receives a good coating. After completing this cover the bowl and place in the fridge for approximately 1 hour. During this hour occasionally gently mix the ingredients. When you are ready to eat your Oriental chicken salad add the pepper, cucumber and melon and mix well together. Then take the salad leaves, placing them on the individual plates, and add the chicken mixture.
You might also like...