Pasta With Cream Cheese Sauce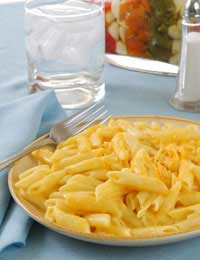 Pasta has become one of our most-relied-upon store cupboard items. The versatility and variety of pasta on offer nowadays is a far cry from the 'macaroni' or nothing days! Reasonable in price, easy to cook, filling -and goes with just about anything- pasta has an important role in our lives!
For this recipe suggestion, vermicelli, spaghetti, or any other long pasta, will work well.
Any of the good quality Italian soft cream cheeses suits this type of dish; but local sheep or goat cheese is worth experimenting with if it is produced in your area!
Ingredients for 4 Servings
175g approximately of dried vermicelli, or other long pasta
2 tablespoons fresh chopped parsley and the same amount of fresh chopped basil
225g soft cream cheese
50g butter
Olive oil
1 clove garlic, crushed
3 or 4 salad onions, trimmed and chopped (keep the washed green stem parts for garnish)
2 tablespoons Parmigiano Reggiano or Pecorino Romano shavings
Sea salt and freshly ground black pepper (optional)
Just under half a litre of boiling water (this is not for cooking the pasta in though)
Use dried Italian mixed herbs if you're out of fresh herbs.
Cream Cheese Pasta - Cooking Method
1.
Bring a large pan of water to the boil. Cook the pasta in the boiling water (read packet instructions) until it is cooked but still firm: 'al dente'.
2.
Drain the pasta and add a couple of glugs of olive oil to it - then, spread through the cooked pasta with two forks.
3.
Melt the butter in a pan and gently fry the onions and garlic over a low heat to soften them.
4.
Place the cream cheese, 'sweated' onion and garlic, chopped parsley in a mixing bowl and blend the ingredients together with a wooden spoon.
5.
Season the mixture with salt and pepper if used. Gradually stir in the boiling water a little at a time. Continue to stir the ingredients in the mixing bowl with the boiling water until the sauce becomes smooth but not runny.
6.
Transfer the pasta to a heated serving dish and pour the sauce over. Use two forks to spread it through.
7.
Garnish with the Parmigiano Reggiano shavings and chopped salad onion stems.
Serve with a crisp green salad and fresh chunky bread - with a small bowl of olive oil to dip the bread in. Quick and tasty!
Here are some tasty variations on the above recipe:
Figs and Anchovies
If the basic one is too plain for your liking, the dish can be modified to suit your pocket and create something a little more special.Combine a few fresh, sliced, figs with a small jar or can of drained anchovy fillets to give a richer, sweeter and sharper taste to the sauce. Omit the onions for this version.
Just add these two ingredients to the mixing bowl with the cheese and use less water, or, substitute some of the boiling water for crème fraiche that has been heated up in a small pan.
Ham with Black Olives
If you have a strong preference for a particular type of ham, try it in this dish. For a more traditional version, I would recommend using something like Parma ham, chorizo, or similar.
Combine 4 slices of thinly sliced Parma ham, or 8-10 round slices of chopped chorizo, with about 50g (drained weight) of pitted chopped black olives. Add to the mixture as before.
Economy Version
Use a small can or 4 slices of corned beef, cheddar cheese and some (heated) chopped tomatoes instead! This version definitely goes best with the addition of onion, but omit the hot water if you use a can of tomatoes or the sauce will be too runny. Cheap and cheerful!
You might also like...