Sticky Pork and Rice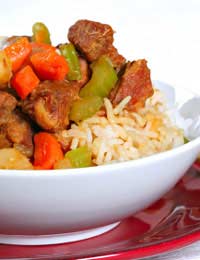 When cooking for a hungry family it is sometimes hard to find something different to place before them. Sticky pork and rice is a tasty recipe that is easy to prepare and tastes amazing – almost like having a take away meal without the cost.
Rice
Use long grain rice for this recipe if possible. There are variations of long grain rice including brown and organic although these can be more expensive, the choice is yours. If your family are not keen on rice substitute the rice with noodles.
Noodles can be purchased either dried in which case you just immerse them in boiling water for a meal within minutes or in ready to heat pouches that just need dropping into a sauce.
Pork
Any form of lean pork is usable for this recipe although fillet or steaks are ideal. You could even use leftovers from a roast but make sure that the meat is heated through thoroughly before serving. If you do not like eating pork why not substitute diced beef, lamb or chicken in the recipe?
Marinade
The pork in this recipe needs to be left in a marinade, ideally overnight. But you could prepare this first thing in the morning cover with cling film and store in the fridge ready to cook in the evening. The tasty marinade mix will seep into the meat and not only make it tender but give it extra taste.
Recipe (Serves Four)
Ingredients
Six tablespoons of sweet chilli sauce
Six tablespoons of dark soy sauce
Six tablespoons of honey
One can of pineapple in natural juice
Two garlic cloves peeled and chopped finely
One inch piece of ginger peeled and chopped finely
400 g pork fillet or any other lean meat cut into cubes
Two tablespoons of oil
One large onion
One carrot scrubbed and sliced into thin sticks
Three tablespoons of sesame seeds
300 g long grain rice
Two tomatoes cut into quarters
A quarter of a cucumber cut into small cubes
Into a medium sized mixing bowl place the sweet chilli sauce, the dark soy sauce, the honey and the juice from the can of pineapple. Mix well then add the garlic, ginger and cubed meat.
Cover with cling film and place in the fridge overnight or for at least four hours.
When ready to prepare the meal heat the oil in a large heavy based frying pan or a wok. Add the onion and carrot and fry for two minutes.
Place the rice into a steamer or pan of salted hot water to cook.
Drain the pork and add to the pan with the frying onion and carrot, fry for five minutes or until the pork is cooked through thoroughly. Add the marinade mix and continue cooking for two minutes until the sauce is bubbly and thickening. Add the sesame seeds to coat plus the pineapple pieces. Bring back to the heat so that it is bubbling and throw in the tomato and cucumber.
Serve immediately on top of the cooked rice so that the tomato and cucumber is still slight raw and crunchy.
You might also like...