Turkey and Courgette Stew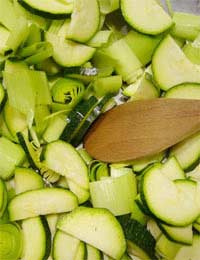 Turkey mince is a cheap and nutritious meat. Readily available in the supermarket it is ideal for many recipes. Low in fat it is perfect for those who have to watch their diet.
Although this recipe is for four generous portions by increasing the vegetables or adding more of your own choosing it is possible to stretch it to feed five or six people. Salt does not need to be added to this recipe as the soy sauce is salty enough for most palates. Recipes like this soon become family favourites.
One Pot
This delicious stew is cooked all in one pan on the hob. It is advisable to use a large stew pan as the quantity of vegetables bulk out the meal and you could find yourself bailing out the ingredients into two pans as you follow the cooking procedure. You will see that this menu goes a good way to meeting your five a day requirement for vegetable intake and having a slight curry taste will appeal to children. Recipes with large lists of ingredients can look quite daunting but as this one is mainly vegetables you can chop them as you progress rather than stand preparing before you start.
Recipes Ingredients
One tablespoon olive oil
One large onion, finely chopped
Two carrots, diced
Turkey mince, 450 gms
Garlic, three cloves chopped
One heaped teaspoon of medium curry powder
Five tablespoons of light soy sauce
One green pepper, deseeded an chopped
One red pepper, deseeded and chopped
One Yellow pepper, deseeded and chopped
Two Courgettes, evenly chopped
Six largish mushrooms cleaned and chopped
Half a cup of frozen peas
400 ml water
Gravy granules, optional
To Cook
Heat the cooking oil and add the chopped onion and diced carrots. Cook on a medium heat until the onion is clear but not brown.Add the turkey mince and garlic making sure that the minced browns through evenly without forming into lumps. Stir in the curry powder followed by the soy sauce and allowed to heat through without coming to the boil.Stir in the chopped peppers and once coated with the curry powder and soy sauce add the water. Leave to simmer for twenty minutes. Taste the liquid and add more curry powder and soy sauce if you prefer a stronger flavour. The size of the vegetables can also make a larger quantity which will require more flavouring or liquid.Add the chopped courgettes, mushrooms and peas. At this stage you may need to add a little more water. Gravy granules can also be added if you prefer the gravy to be a little thicker. Simmer for a further ten minutes or until the courgettes are tender but not falling apart.
To Serve
Serve this stew in warmed bowls, you will find that the larger pasta bowls are ideal for this recipe. Brown rice is an ideal accompaniment to this meal and recipes like it. The cooking time should be calculated so that it is ready when the main meal is ready. Apart from the fresh vegetables all ingredients can be kept in the store cupboard and freezer ready for when you fancy a spicy and warming meal. Recipes that allow you to adjust ingredients according to the season of the fresh vegetables or the tastes of your family should be saved for future use.
You might also like...