Cheese and Apple Salad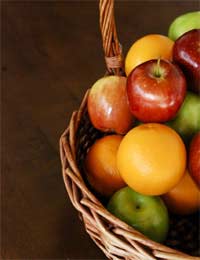 An apple and cheese salad does not immediately come across as being the most exciting of salads, but with a little imagination it can be lifted out of the ordinary.
The variety of apple chosen is down to personal choice, but a Granny Smith is often thought of as ideal for apple and cheese salads, because of its unique taste and crunchiness. The cheese, like the apple, to be used in the salad is also a matter of personal preference. With a Granny Smith apple, blue cheese is often the cheese of choice.
Cheese and Apple Salad
Enough to make 2 servings of salad
An apple that has been cut into thin strips and had its core removed
90g of crumbled cheese of your choosing- blue cheese goes well with Granny Smith apples
30g of chopped pecans
130g of torn lettuce
2 slices of bacon
100ml of balsamic vinaigrette salad dressing
First take the apple and place in a bowl along with the balsamic vinaigrette. Once this is done, place in a fridge for approximately 1 hour. This will allow the ingredients to marinate. Next take the bacon and cook until it turns brown. Next,once it has cooled, crumble the bacon. The next stage involves taking a salad bowl and combining the lettuce, pecans, cheese and bacon. These should then be tossed together. To serve pour the dressing and apples over the top of the salad.
Using Walnuts,Yogurt and Honey
A slightly more adventurous recipe is to use walnuts,yogurt and honey. The ingredients required to make this are.
An apple that is both firm and juicy
1 oz of raisins
2 oz of cheese - cubed
A stalk of chopped celery
1/4 teaspoon of honey
2 1/2 tablespoons of plain yogurt
A tablespoon of lemon juice
A pinch of cinnamon
First take the apple and remove the core. Then cut into cubes and mix in a bowl with the lemon juice. Next take the raisins, walnuts, cheese and celery and mix together. Take the yogurt and add honey and cinnamon to it. This will help flavour the yogurt. Once this has been completed mix the salad and yogurt together and serve.
Orange Zest and Cranberries
Goat cheese, orange zest and cranberries can also be used to add variety. For this the ingredients are:
1/2 a cup of dried cranberries,these can be chopped
A firm juicy apple that has been cored,but not peeled, and cut into cubes
3 oz of goat cheese
A teaspoon of olive oil
The zest from a whole orange
1/2 a tablespoon of fruity vinegar
A teaspoon of salt and pepper
A small lettuce that has been torn
1/4 of a cup of shelled pumpkin seeds
1/3 a cup of extra virgin olive oil
First blend the shelled pumpkin seeds with salt and olive oil in a bowl and spread out on a baking tray. Place in a medium heat oven and bake until they become a golden colour. Once this has happened remove them from oven and allow to cool. Next take the cranberries and shelled pumpkin seeds and place in a bowl. Next take another bowl and blend together the orange zest, extra virgin olive oil and vinegar. After this add salt and pepper before whisking the ingredients. Take the apple and slice into cubes before adding to salad bowl. Next take the lettuce and dressing and toss before placing crumbled cheese over the salad.
You might also like...