How to Make Vegetarian Goulash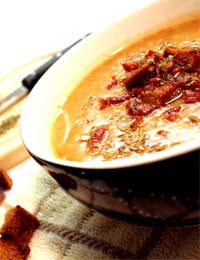 This meal suggestion is another of our no-nonsense, flavour-filled, gems! It is simple to prepare and cook, can be adapted to suit your taste and the availability of fresh seasonal vegetables and can be served as a meal on its own.
In this meat-free version of the traditional Hungarian goulash, we use a selection of relatively inexpensive fresh vegetables combined with the accepted flavouring of paprika. The result is a mouth-watering and substantial vegetarian meal.Alternatively, this dish is equally well received as an accompaniment to hot chicken drumsticks or cold meats.
Vegetarian Goulash
2 medium-sized onions
2 medium-sized parsnips
2 small courgettes
2 sticks of celery
1 red pepper
1 small aubergine
50g mushrooms of your choice
2 cloves of garlic, crushed
150ml soured cream
500g fresh white cabbage
400g can tomatoes
1 tbsp tomato puree
1 tsp lemon or lime juice
200mls vegetable stock
5tsps paprika
1tbsp caraway seeds
Fresh chopped parsley to garnish
Shred the cabbage fairly finely. Prepare the vegetables by washing/peeling and slicing as appropriate: bite-sized pieces are best for this recipe.
Heat the oil in a large skillet or saucepan and then, gently fry the onions, red pepper, parsnips, celery, courgettes, aubergine and garlic together for 4-5 minutes to soften and colour them. When the first batch of vegetables has been gently fried, add the mushrooms and white cabbage. Cook all the vegetables together over a moderate heat for a further 4-5 minutes and stir often to prevent them from sticking. Next, stir in the tomatoes along with the tomato puree and lemon juice, then, add the vegetable stock. Stir well as you add each ingredient.
Add paprika and caraway seeds
Finally, add the paprika and caraway seeds. Caraway seeds have a nutty - but quite subtle flavour - with a hint of anise and orange peel and a warm, earthy aroma that makes them a delicious addition to many vegetables dishes. Once you start using caraway seeds in your vegetarian cooking you'll develop a taste for them!
Use the best paprika you can find to give rich colour and mild sweetness to this meal. Stir well and have a little taste of your creation! Add some crunchy sea salt if needed at this stage and taste again as the goulash cooks. You may want to add more tomato puree and paprika too, it depends on your personal taste.
Now it's time to put a lid on your pan and let the vegetables, liquid and spices do their thing. Simmer the goulash gently for about 20 minutes - so that the vegetables are tender but not going soft. Check the seasoning once more and adjust if necessary. Add the finishing touches - spoon the soured cream over the cooked goulash and garnish with a generous amount of fresh chopped parsley.
To serve...
Serve the goulash straight from the pan or transfer it to a warmed serving dish. Buttered noodles, wholegrain rice or baked potatoes go well with this dish. Hot crusty bread makes a good accompaniment too and does a great job of mopping up the tasty juice!
If you don't use up all the vegetable juice in the dish it makes a useful base for other sauces or soups and freezes well. For a change of topping, omit the soured cream and sprinkle with grated cheese instead. Finish off under the grill until the cheese begins to bubble and brown.
You might also like...
I have just looked at your recipe and I am quite taken by it. The two questions I would like to ask is, 1 How many would this serve, and 2 Is it possible to use a slow cooker. Thanks Bill.
Archie
- 11-Jan-14 @ 11:20 AM