Chicken Chasseur Recipe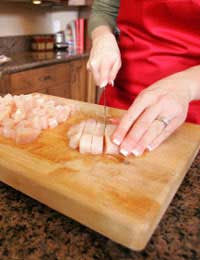 Chicken is the basis of many low fat and nutritious recipes. With a choice of budget chicken through to the best organic varieties it is a food to suit every pocket. Chicken Chasseur is one tasty meal that can be created with ease for either a family or celebration meal.
Chicken
Any part of the chicken can be used for this recipe although chicken thighs seems to have more flavour than the fillet and are more suited if you wish to cook the recipe slowly.
Wine
White wine is traditionally part of the recipe for Chicken Chasseur. However, if you are serving this to children it is quite in order to leave out the white wine. Remember though that the alcohol content would have dispersed during cooking. Any white wine is suitable for this menu but if you do not have a bottle of wine in the house or do not wish to open a bottle for this recipe then purchase a small taster bottle which are widely on sale in supermarkets.
Ingredients
4 chicken breast fillets cut into bite sized pieces or 8 chicken thighs
2 tablespoons of oil
1 large or 2 small onion chopped
3 garlic cloves chopped finely
1 tin of chopped tomatoes
1 glass white wine
2 tablespoons of tomato paste
1 chicken stock cube
250g button mushrooms
Fresh mixed herbs
Salt and pepper to flavour
Heat oven to 200ºC or gas number 6.
To Prepare
Heat oil in a deep based oven proof casserole dish. A cast iron dish is ideal.Brown the chicken thighs or lightly cook the breast fillets. When the chicken is lightly brown add the onions and garlic and cook slowly until the onions are clear. Add the can of tomatoes, the glass of white wine, the tomato paste and stock cube and heat through.Place the lid on and put into the preheated oven for one hour.Add the cleaned button mushrooms, the mixed herbs and replace into the oven for a further thirty minutes.Some people like a browned top to their chicken Chasseur in which case do not replace the lid of the casserole dish for the last thirty minutes of the cooking time.Season to taste and serve. Thicken with more tomato paste if required.
Accompaniments
The ideal accompaniment to chicken Chasseur would be small new potatoes and seasonal vegetables. However, with this dish being something that could be left in a slow cooker or a low oven to cook all day whilst you are at work you would not want to be preparing vegetables before eating. Either use quick cook rice or have your vegetables ready washed in your fridge so that they can be put into a steamer whilst you lay the table for dinner. There is nothing stopping you adding vegetables such as potatoes, carrots and peas to the Chicken Chasseur so that it is a complete meal ready to eat for your dinner when you arrive home after a hard days work.
You might also like...