Chinese Hot Noodle Salad With Vegetables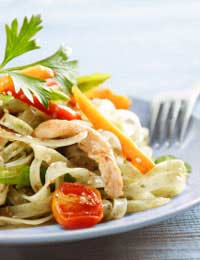 Chinese style salads are becoming increasingly popular as people become more adventurous and look for alternative recipes to make salads more exciting and tasty.
Recipe
The Chinese style hot noodle salad with vegetables is relatively quick and easy to put together, taking less than an hour to complete. For two servings you will require the following:
A teaspoon of sunflower oil
2 cloves of finely chopped garlic
70g of egg noodles
1 tablespoon of grated ginger
Half of a red chilli that has been finely chopped and had all its seeds removed
Half of a diced yellow pepper
Half of a diced red pepper
50g of sugarsnap peas
Half a tablespoon of finely chopped lemongrass
100g of carrots that have been cut into long thin slices
80g of baby sweetcorn that has been cut in half along its length
2 tablespoons of soy sauce
125g of finely shredded Chinese leaves
3 spring onions that have been finely sliced
Half a teaspoon of sesame oil
1 tablespoon of coriander
10g of finely chopped peanuts
First place the egg noodles in a pan of boiling water and once cooked remove and drain, ensuring that all excess water has been removed. Next take the sunflower oil and heat in either a large frying pan or, preferably, a wok. As the sunflower oil begins to heat up add the ginger, carrots, chilli, lemongrass, sugarsnap peas, garlic, sweetcorn and peppers. These should take approximately 7 minutes to cook.
The next stage is to add the spring onions, soy sauce, Chinese leaves, egg noodles and sesame oil. Once all these ingredients have been added stir together for approximately 2 minutes using a medium heat. At the end of 2 minutes the contents of the frying pan or wok should be well mixed and hot.
Next mix in the peanuts and coriander and the salad is ready to serve.
Using Peanut Sauce
The Chinese noodle salad is very versatile and it is possible to adapt it to suit most tastes. An example of this is Chinese noodles with peanut sauce. This again is easy and quick to make and, like the recipe above, is very tasty.
For this recipe you need to use:
1/2 lb Hakka noodles
3 tablespoons of peanut butter
3 tablespoons of soy sauce
3 teaspoons of sesame paste
1/8 of a cup of honey
2 tablespoons of vinegar
1/4 of a cup of sesame oil
1 tablespoon of fresh ginger hat has been finely chopped
2 garlic cloves
1/4 of a cucumber that has been both peeled and had its seeds removed
1/4 of a cup of roasted peanuts
1 green onion
First boil noodles at medium heat until they are tender, but firm. Next remove all excess water and place under a cold water tap until all heat has gone. After draining add and mix with sesame oil.
For the dressing blend all the remaining ingredients together, until they become paste, before adding to the noodles. If the paste is too thick for your liking you may add hot water to thin it out.
You might also like...