Spiced Chicken and Mango Salad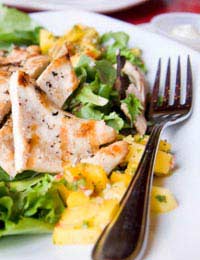 Spicy salads are becoming increasingly popular as people discover that there is more to a salad than lettuce leaves and tomatoes.
Thai spicy chicken and mango salad can be made in less than an hour and after eating it you will never think of salads as being boring again.
To serve four you will need the following:
600ml of coconut milk
A large mango that has been peeled and sliced
7 spring onions
4 chicken breasts that have had their skin removed
3 sticks of celery
3 teaspoons of fish sauce
1/4 of a teaspoon of chicken stock granules
A whole medium sized cucumber that has been sliced and had its seeds removed
2 green chillies that have been finely sliced
1 1/2 bunches of chopped mint leaves
1 1/2 bunches of chopped coriander
The first thing to do when making your Thai spicy chicken and mango salad is to pour the fish sauce and coconut milk in a large pan and simmer.
Next place the four chicken breasts in the pan and gently simmer for approximately 12 minutes. Once you have done this take the pan away from the heat and this will let the chicken breasts cool down in the coconut milk.
After the chicken breasts have cooled down remove the chicken from the coconut milk and cut the breasts into small slices. Then place the sliced chicken breasts into a bowl and mix with the spring onions, green chillies, mango, cucumber, mint, celery, and coriander.
The dressing for your Thai spicy chicken and mango salad is made by using:
3 tablespoons of lime juice
2 red chillies that have had their seeds removed
2 tablespoons of fish sauce
2 teaspoons of sugar
You then just mix all the ingredients together until the sugar has dissolved.
Like most salads, the Thai spicy chicken and mango salad can be adapted to suit a number of tastes.
Using Chicken Drumsticks with Your Salad
A variation on the above recipe is to use chicken drum sticks, instead of breasts, and to make use of other ingredients such as honey, soy sauce and sesame oil.
To serve 2 you will need the following
1/2 cup of water
Between 6 and 8 chicken drumsticks
1 tablespoon honey
1/2 a tablespoon of sesame oil
1 tablespoon of rice wine vinegar
1 or 2 chilli peppers that have had their seeds removed. The number of peppers depends on how spicy you like your salad
3 crushed garlic cloves
30 ml of soy sauce
1/2 a peeled ands sliced mango
1/2 cup of bean sprouts
1/2 a large cucumber that has been both sliced and had its seeds removed
2 thinly sliced green onions
90g of snow peas that have been halved
1/2 a cup of coriander leaves
First pour the sesame oil in a deep frying pan and place chicken legs in the pan to cook. The chicken legs should become brown after approximately 10 minutes.
Next you need to add the chicken stock mixture to the pan and after bringing to the boil, simmer and cover the chicken drum sticks for approximately half an hour. This should ensure that the chicken legs are cooked through, but always check this.
A vinegar and lime dressing can be used with your salad and for this you will need:
30ml of rice vinegar
1/2 a tablespoon of peanut oil
30ml of lime juice
Mix all the salad ingredients together in a large bowl and then pour the salad dressing over the salad before mixing the contents of the bowl further. Then add the chicken drumsticks to the plates.
You might also like...