Containers for Storing Food in your Freezer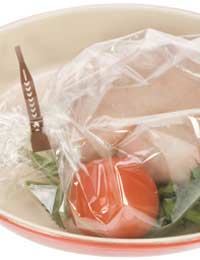 Planning meals for your family should include cooking and freezing food for future use. This will get you through times when money is short before pay day and also keep meal planning organised. If you decide to store food in a freezer you will have to have adequate containers to store the food and keep it free from contamination.
Specially Designed Containers
Plastic containers with lids are ideal for storing food in a freezer. Always ensure that the food is cold before placing it in the container otherwise it will warp. Lids should fit securely to save liquid leaking out before it is frozen and also so that food does not become exposed and contaminated whilst in storage.
Bags
Plastic bags can be purchased in rolls and are ideal for many foods that require storing in a freezer. The bags should come either with a self sealing top or wire type strips that can be twisted around the bag to keep the contents secure. Never overfill a bag and make sure it is not punctured as there can be a mess when the food is defrosted.
Foil Containers
Foil containers are great for holding pies and casseroles. First seen as containers for take away food these containers easily stack in the freezer and have lids that can be written in and are secured to the container by folding down the edges.
Casserole Dishes
Many casseroles dishes are designed to go from oven to freezer and back to the oven or microwave. The problem with this type of storage container is that it may not stack easily in the freezer and is out of action all the time it is holding food in your freezer. Before putting food into the freezer in a casserole dish make sure it has cooled properly. Putting hot food into a freezer could slightly defrost other foodstuff already stored there.
Recycling Containers
Apart from plastic freezer bags most containers can be washed and used a number of times. It is important to make sure that the containers are hygienically clean before reuse.
Labels
Label all boxes and containers with details of the contents otherwise you can be in for some unusual surprises at meal time. Also put the date of when the food was cooked and frozen and use this before similar foods in your freezer. Check that the labels you use are suitable for frozen foods as sometimes labels can fall off in extreme temperatures and will be found at the bottom of the freezer when you come to defrost and clean it.
Some freezer bags and boxes can be written on with marker pens but this can be a problem if you intend to recycle the boxes for use at a later date.
Be Organised
Make sure that you are organised with food storage in the freezer. Before storing fresh meals check what is already there and bring it to the top of the freezer. If you have a chest freezer use baskets provided to keep the food organised. Even carrier bags in the freezer holding different foodstuffs will keep your freezer compartments organised.
You might also like...
Newbi cook - Your Question:
If I use frozen pastry to line and top a foil tray can I refreeze the pastry?As being on my own now be nice to make individual pies rather than one large.Many thanksStephen
---
Our Response:
Once it's thawed, you should not re-freeze it unless you've cooked it. So if you thaw the pastry to line a pie, then cook it, then freeze it, that's fine.
EasyDinnerRecipes
- 24-Feb-17 @ 10:39 AM
If I use frozen pastry to line and top a foil tray can I refreeze the pastry? As being on my own now be nice to make individual pies rather than one large . Many thanks Stephen
Newbi cook
- 21-Feb-17 @ 1:14 PM