Cooking a Romantic Meal With Your Partner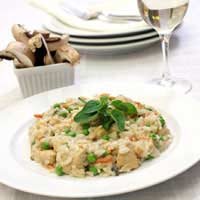 Cooking a romantic meal with your partner is completely different to cooking a meal for him or her! It's a much more inclusive and fun way of doing things for a start, and it contains much less risk – you aren't solely responsible for the creation of the meal and if anything goes wrong, you're able to laugh together as you put it right, rather than you feeling like a failure for turning a romantic evening into a culinary disaster area. Don't think that it's all very practical though, it can be highly romantic to create a meal together because the very act of making food is a profound and sensitive way of showing how much you care for somebody.
Preparation Makes Meals Better
Begin at the end, by thinking of the décor. You don't have to splash out on anything very expensive, but a few unscented candles and some flowers from the garden make the dining area look lovely. Don't opt for scented candles, as they can interfere with the tastes and delicious aromas of the meal.
Often it's best to cook a meal that you know your partner likes, and that you're comfortable creating. That way you're likely to work together more easily as you have a clear idea what needs to be done when. However, if you've opted to try out a new dish, check the ingredients and method the day before – sometimes you need to make preparations such as marinating meat or soaking beans or dried food up to 24 hours in advance. Don't worry if you're a novice chef, you can still turn out a winning meal. For example, buy a plain pizza base and then it cut into a heart shape. Now spread the base with a good tomato pizza sauce or simple tomato paste and add toppings that you know will appeal to your partner – get him or her to help you arrange ham, meatballs, salami, peppers, mushrooms or whatever his or her favourites are. Then while that dish is baking in a hot oven, make a simple pudding by breaking up a shop-bought meringue and mixing it with whipped cream flavoured with your favourite liqueur (just a few drops or the cream will never whip) and a carton of fresh berries. Instant, perfect, delicious!
Confident Cooks Can Be Spontaneous
For more confident cooks, don't telegraph the meal in advance, simply decide spontaneously to cook together than evening. Your partner will find it much more exciting if he or she isn't expecting anything special when they get home. A nice surprise is to get the kitchen ready with some favourite music playing, a pair of aprons, flowers on the windowsill and a nice sprizter or alcohol free beer ready chilled. Don't start with anything too alcoholic as it can impair the ability to cook well!
Choose a meal that responds to the weather outside, such as a barbecue on a sunny day, or a fondue on a cold and rainy one. This link between the food and the conditions of the day makes it even more significant. Both these meals are ideal for two people to cook.
Remember to keep the meal simple to cook and eat – an omelette prepared by the two of you, with steamed green beans, followed by a pudding that you can whip up in seconds, such as a prepared chocolate sauce in which you can dip fresh fruit, means that you don't spend the whole evening cooking and end up too tired to enjoy your labours.
You might also like...