Cook a Perfect Mixed Grill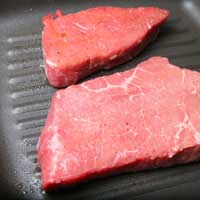 The mixed grill is a serious challenge for any carnivores in your life. Whichever selection of meats you choose to use can make a substantial meal for one super-athlete in your family, or a significant spread for the whole (family) team.
Traditionally, the mixed grill was cooked over charcoal in the chop houses and grill rooms of our cities, but if you have a grill don't be afraid to use it! Likewise if you have a griddle plate on your cooker, try using it for this dish. (Check your cooker guidelines first.)
As always, use the best quality meats available. It is so disappointing when you realise-from that first bite-that the meat does not match the amount of effort you've put in to preparing the meal! Don't be too concerned about what 'can' and 'cannot' be used in a mixed grill: if you're defrosting a freezer, adapt the meal to suit. It may mean using the oven/microwave/skillet for some of the ingredients, but makes more sense than buying extra food specially. (There are no laws about mixed grills; yet!)
There are other versions of this meal where chicken hearts and chorizo, garlic, onion and chutneys are included.
Ingredients for a Mixed Grill to Feed 6
6 lamb cutlets
6 lamb's kidneys (halved and trimmed)
6 small beef steaks (or one large steak cut into 6 portions)
6 small gammon steaks (or three larger ones, halved)
6 pork sausages (cook more sausages if required-not everyone likes kidney)
6-12 medium-sized tomatoes (or 3-6 beefsteak tomatoes cut in half)
Mushrooms: allow at least 2 medium-sized per person because 1 single mushroom on a plate looks pathetic!
Melted butter
Cooking Times: A Guideline for Popular Grills
Lamb cutlets (on the bone) 7-10 minutes
Lamb chops (on the bone) 12-15 minutes
Lamb's Kidneys, allow 5-10 minutes
Lamb's Liver, sliced to about 1.2cm, 4-6 minutes
Beef steak, measuring 2.5cm thick: Allow 7 minutes for rare steak, 10 minutes for medium, 15 minutes for well done
Gammon steaks need 10-15 minutes cooking time
If using bacon rashers in your mixed grill, add them to the pan in the last few minutes; as they need less cooking time and taste like wood if overcooked!
Method
1. Preheat the grill or griddle to high. As the meats need different cooking times, keep a hot baking tray ready for the cooked items as you go along. Have a serving dish heated ready.
2. Wipe the mushrooms and place a small blob of butter in the flat underside part. Leave the mushroom stalks on.Halve the tomatoes across the middle (looks better than end to end)
3. Grill the mushrooms and tomatoes for 5-8 minutes beneath a hot grill. Keep warm.
4. Place the meats on the hot grill tray or griddle and brush with melted butter. Cook quickly at high temperature and turn the meat pieces over once or twice to brown them all over and cook evenly. (Use the cooking times guideline above.)
5. Transfer cooked meats to the baking tray as you go but avoid over-cooking them.
How to Present your Mixed Grill
When everything is ready, arrange the cooked meats, mushrooms and tomatoes on your serving dish. Garnish with fresh watercress or other leafy green salad to provide a contrast of colour.Boiled new potatoes and peas are good accompaniments to this dinner. It makes a change and is a quick, straightforward, dish that your diners will hanker after again!
You might also like...
Don't forget the sore gums of elderly people!Many meats and grilled dishes are too tough for old gums, even with a dental plate. Cutting the meat fine is not always the answer. Pureed food becomes distasteful unless served individually with a choice of sauces or gravies.My 'elderly' now hates chicken for its blandness. Some shell fish become rubbery and can no longer be enjoyed by the elderly, mussels and prawns often come into this category, no matter what sauce you provide with them. I've found that home made stocks without added water are appreciated because of the stronger flavour.Add a little finely shredded meat, and vege, and that often serves as a wholesome meal in itself. bd
bonney95
- 5-Jul-14 @ 4:37 AM
For a perfect mixed grill, it is very important to marinade the lamb at least 8 hours: you should put the meat in a ceramic or glass bowl, and then cover all with a mixture of vinegar, garlic and rosemary.
Mario Grazia Italian
- 29-Apr-11 @ 4:12 PM