Ezme: Spicy Tomato Salad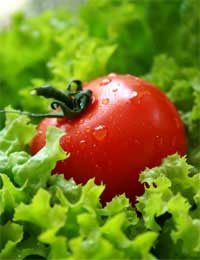 Tomatoes are one of the most under rated ingredients when it comes to making salads. A spicy tomato salad (Ezme) with meat, is something that can really get you warmed up on those cold winter nights and it is quick and easy to make as well.
Spicy Tomato Salad
This recipe will serve 2 people.
You will need:
2 peeled tomatoes
4 inch section of peeled cucumber
half a green pepper
a scallion
1/4 teaspoon of paprika
1/4 teaspoon of salt
1/2 teaspoon of wine vinegar
1/4 teaspoon of black pepper
1/2 teaspoon of olive oil.
First the tomatoes, pepper and cucumber have to have all their seeds removed and chopped into very fine pieces. Once all excess liquid has been removed the balance of the ingredients should then be added and blended well. If possible ensure that the salad is rested for a few hours, as this will really help bring out the flavour.
The meat you choose to use with your spicy tomato salad is entirely up to you, but it is better to use as lean a meat as possible and, if you wish, add some chilli sauce to give it a kick. The use of chicken breasts, along with the use of additional optional ingredients, with your spicy tomato salad is outlined later in the article.
Chilli, Ginger and Coriander in Your Tomato Salad
Another variation on the spicy tomato salad theme is to make it with ingredients including chilli, ginger, onion, coriander and lemon juice.
This recipe will serve 2 people.
You will need:
8 plum tomatoes
1/2 teaspoon of sugar
1/2 a finely sliced red chilli
1/2 a large onion
a pinch of pepper
2 teaspoons of lemon juice
a teaspoon of soy sauce
3 thinly sliced salad onions
1/2 teaspoon of peeled and grated root ginger
1/2 teaspoon of coriander leaves that have been chopped
50 ml of virgin olive oil.
First mix the chilli, lemon juice grated ginger and onion together. Next, having sliced the tomatoes, mix them in a bowl and add some pepper and sugar. You will then need to leave both bowles for approximately 25 minutes before mixing their contents together and adding the coriander, salad onions and soy sauce along with the olive oil.
Adding Chicken to Your Spicy Tomato Salad
Chicken breasts with tomato salad are also a popular choice.
For this to serve 2.
You will need:
2 skinless chicken breasts
some sambal oelek
the regular tomato salad ingredients already outlined.
First take the chicken breasts and cut into the skin side of the meat, but not too deep, and massage in the sambal oelek, ensuring that it gets right inside the knife marks. Then, after placing the chicken breasts on a baking tray, pour over some olive oil. Cook the chicken breasts thoroughly under a grill set at medium heat. This should take approximately ten minutes on each side of the meat.
You might also like...