Spinach and Curried Turkey Salad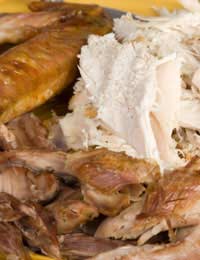 Turkey and spinach make a great combination for a delicious salad. The kiwi and papaya in our first recipe give the salad a lovely fresh, slightly sweet taste and we've got a great way to serve the salad in our spinach line tortilla cups. We think these salads would be a great way to use up some of the cooked turkey for a light tea on Christmas day.
The recipe below gives the ingredients required for 2 servings.
Turkey and Spinach Salad
2 cups of cooked, shredded turkey
1/2 a cup of toasted almonds
2 tortillas
2 cups of spinach leaves
A peeled, sliced and seeded papaya
2 peeled and cut kiwi fruit
A cup of creamy curried dressing
First take a large bowl and mix the turkey and salad dressing together. Once these have been well mixed, place the bowl in a fridge and leave for approximately 2 1/2 hours.
To Make Tortilla Cups
Next take the tortillas and,after wrapping in tin foil, place in a medium heat oven for approximately 11 minutes. Next take 2 custard cups and coat the outside with a non-stick spray. Once this is done place the tortillas over the custard cups and gently press into shape before removing from the custard cups. After this has been completed place the tortillas back in the oven, at a slightly hotter setting, and cook for approximately 10 minutes. Next remove the tortilla shells from the oven and place to one side, allowing them to cool down.
When cool, take the spinach leaves and use them to line the tortilla cups before taking the almonds, papaya and kiwifruit and adding them to the turkey mix. Take the turkey mix and pour into the tortilla shells.
Chutney
Adding chutney to a turkey and spinach salad is another option. To serve 2 will require:
Ingredients
2 cups of cubed, cooked turkey
1/2 a cup of mayonnaise
1/2 a tablespoon of grated orange rind
2 1/2 cups of spinach leaves
A teaspoon of curry powder
1/4 of a cup of toasted almonds
A pinch of salt and pepper
1/2 a cup of mango chutney
1 1/2 tablespoons of orange juice
A small thinly sliced purple onion
2 chopped green onions
1/2 a tablespoon of grated orange rind
4 oz of sliced water chestnuts
1/2 a cup of sour cream
First combine the mango chutney, grated orange rind, sour cream, pepper, mayonnaise, orange juice, salt and curry powder. Add the turkey to these before adding the chestnuts, almonds and onions and toss well together. When this has been done, cover the bowl and place in the fridge for approximately 3 1/2 hours. Just prior to serving, line the plates with spinach leaves.
Pitta Breads with Turkey Salad
Using pitta is also a good way to eat a turkey salad. Required for this are:
A teaspoon of curry powder. This can be hot or mild
1 1/2 tablespoons of plain yoghurt
1 1/2 cups of green seedless grapes. These can be cut or left whole
2 pittas
2 1/2 cups of shredded, cooked turkey
1/2 a tablespoon of honey
1/2 a cup of chopped onion
1 1/2 tablespoons of sour cream
1 1/2 cups of spinach leaves
A pinch of salt
A pinch of pepper
A tablespoon of lime juice
First take the lime juice, yoghurt, salt, pepper, sour cream, honey and curry powder and blend together in a bowl. Next take the remaining ingredients and gently add these to the mix. Once this is done take the pitta breads and cut them in half before filling with the mixture from the bowl.
You might also like...