Five Ways With Baked Potatoes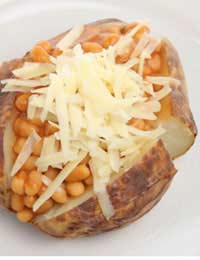 We all know the comfort of a baked potato, and what could make for a tastier and more warming mid-week winter supper? Here we offer five ways to create a delicious but simple supper.
The Best Potatoes for Baking
The best potatoes for baking are the 'floury' varieties which collapse when cooked leaving the skins intact and crispy whilst the inside is wonderfully fluffy. Good varieties to go for would be Maris Piper, Golden Wonder, Estima, Pentland Squire or Picasso, but there are other less well-known varieties which also bake well.
Quick Bakes
The main issue with baking potatoes is that they take so long to cook through – and if you're not planning to bake anything else at the same time, it can seem very wasteful to have the oven on full blast just for a humble spud or two. There are ways, however, to reduce the cooking time and save energy costs. Before baking, first cook in the microwave. Just put the potatoes in a microwaveable bowl with a little water and place a lid loosely over the top. Cook in this way until tender. Remove – and be careful at this stage as they will be very hot – and finish off in the oven. They will bake through in a fraction of the time and the skins will still crisp up nicely. If you have a combination microwave which includes a conventional oven, then this can be even more energy-efficient.
If you are doing them in the oven but still wish to cut down on the time, then make sure to skewer the potatoes first so that the heat can penetrate quickly.
Crispy Jackets
If you like the jacket of your baked potato to be really crisp, then before you pop into the oven, coat the potato in olive oil and season all over with coarse-grained sea-salt and freshly ground pepper. On the other hand, if a softer skin is preferred, wrap them in tin foil first before baking.
Classic Fillings
Really, any filling at all can be put in baked potatoes and the best way to find a combination you like, is just to experiment – but some of the tried and tested classic favourites include:
Baked beans
Cream cheese and chives
Chilli con Carne
Grated cheddar cheese and Butter
Nevertheless, if you want to try something a little different, how about the following suggestions:
Mozzarella, Bacon and Herb
Cut a pearl or block of mozzarella cheese into small cubes, chop some good flavoured tomatoes up and mix with the cheese. Then add some torn basil leaves and dry-fried bacon pieces. Press into the top of the baked potato and either grill or pop back into a hot oven until melted and oozing. Season with freshly ground pepper.
Mushroom and Goat's Cheese
Another mouth-watering combination is melted cheese with mushroom. First take some good, mixed mushrooms. Any type will do, depending on how 'mushroomy' you like the flavour to be. Quickly cook in a little virgin olive oil and butter together with a clove of crushed garlic and some finely chopped spring onions. Cut open the top of the baked potato, carefully spoon in the mushroom and garlic mixture and then add a couple of knobs of goat's cheese or blue cheese, if you like a stronger flavour. Return to the oven for just a couple of minutes until the cheese has warmed through and is slightly 'gooey'.
Creamy Herb and Broccoli
Mix some sour cream or Crème Fraiche with some dill, thyme, parsley and tarragon. Season with salt, add a squeeze of lemon juice and stir. Put aside whilst you lightly cook a little broccoli – or asparagus if in season – in salted boiling water. When tender, mix the broccoli florets with a little of the cream mixture and spoon into the baked potato. Warm through or eat as is, with the remaining cool crème fraiche mixture as extra sauce.
Curried Baked Potatoes
Got any left-over curry, but not quite enough for a main meal? Well one of the best ways of using it up is as a filling for a baked potato. If the curry is slightly dry, just add a sprinkling of water to it and heat through before adding to the potato. Delicious!
Soufflé Filled Baked Potatoes
For a baked potato with a difference have a go at soufflé fillings. To make, cut the cooked baked potatoes lengthways in half and scoop out all the flesh, being sure to leave the skins intact. Mix the innards with a large knob of butter, an egg yolk and flavouring of your choice. Herbes de Provence work well, or if you like a bit of a kick, then Cayenne pepper or Paprika are also very good. Season with salt to taste and put to one side whilst you beat the egg whites until stiff. Then, carefully fold the egg whites into the potato mixture and spoon back into the waiting potato skins. Return to the oven until risen and golden on top.
You might also like...