How to Cook on Holiday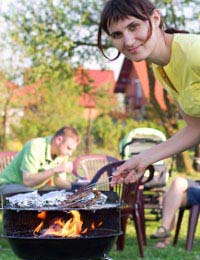 Sadly, many people find that self-catering and camping holidays mean they spend more time cooking than ever before – and with inadequate equipment and supplies. Here are some tips about what to take with you so that you don't end up wrestling with poor tools
Always pack:
Your favourite knife and a sharpener (if you're travelling by air or train, put the knife, well wrapped, in your suitcase)
A meat thermometer – because you can't rely on somebody else's oven to reach the temperature it says it's reached
A pair of tongs – useful for pasta or barbecues or handling lobsters
A heat-proof rubber spatula – because there never seems to be a good spatula in holiday homes
An apron to preserve your lovely holiday clothes from splashes of tomato sauce or hot fat
Oven gloves – the ones you'll find waiting for you will probably be inadequate and burned fingers can ruin a holiday.
Breakfast
Omelettes are the ideal holiday breakfast – you can turn an ordinary omelette into a substantial start to the day by adding part-boiled potatoes, sliced onion and defrosted or fresh shelled peas, which makes a Spanish style fritatta and is delicious with fresh bread. Sweet omelettes can be made by folding an ordinary whisked egg omelette over a spoonful of jam or compote and sprinkling the top with a little sugar.
Lunch
A gazpacho soup is served cold, and is easy to make if you have a liquidiser. It tastes fantastic because it is fresh and uses good ingredients. This recipe serves 4 – 6 people with local bread.
Ingredients
1 kilo washed red tomatoes – in the Mediterranean the big plum tomatoes are best
1 small red pepper – deseeded and roughly sliced
1 small sliced onion
1 garlic clove
1 cucumber – you may prefer to peel it
200ml extra virgin olive oil
30ml vinegar – wine vinegar is best if you have it to hand
Simply liquidise the ingredients, keeping back a couple of slices of cucumber to garnish each plate, then strain the liquid and serve.Alternatively, try a simple salad:
Bean and mushroom salad
250g green beans
150g fresh mushrooms
A good handful of basil
A good handful of walnuts or pine nuts
150ml olive oil
Cook the beans for five minutes until tender and cool under running water before draining well. Mix with the sliced mushrooms, and then blend the basil, oil and nuts to make a fresh pesto to pour over the top. Serves four.
Dinner
A simple stir fry using fresh local produce is an ideal supper dish. Choose from local fish, or chicken or beef, and fry in two tablespoons of vegetable oil Add sliced mushrooms and onions, and cook until lightly browned, stirring all the time. Add the juice and zest of an orange, lime or lemon, with several splashes of soy sauce, and serve with plain rice, noodles or local bread.
A holiday isn't a holiday without puddings, so here are three very simple recipes to make dinner end in a sweet note.
Fruit salad
Simply use whatever you can find in local markets to create a fresh and tasty salad. Ensure you wash fruit thoroughly if you're not peeling it, to avoid the risk of bacteria on the skins that could cause upset tummies. Serve with a few sprigs of mint to give a refreshing flavour.
Honey smoked nectarines
These can easily be cooked on a barbecue and you can use peaches or apples depending on what you find available locally
Wash fruit, then halve them and stone or pip them. Brush with a mixture of honey and black treacle if you have it, or honey and sugar if you don't and then put on a gentle barbecue or grill for 4 minutes on each side. Serve with ice-cream, cream or plain yoghurt if you have it to hand.
Fruit Parfait
This recipe is ideal for the children to prepare while you get on with dinner. You'll need a large tub of low fat yogurt, plain or flavoured, fresh raspberries and fresh or tinned pineapple chunks. Using four glass bowls or tall glasses, layer the yoghurt, raspberries and pineapple in pretty layers and top with honey or brown sugar.
You might also like...