Pizza and Salad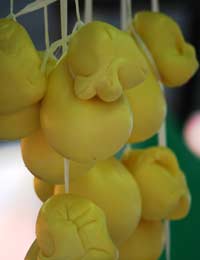 Pizza can be a wonderful theme for a salad. Our tasty pizza salad ideas below include: Salad using a cubed pizza base; Pasta salad with pizza ingredients; Pitta bread with pizza style topping and salad andPizza style pesto salad on bruschetta
Pizza Base Salad
Ingredients required for two servings are:
1 1/2 cups of diced mozzarella cheese
2 1/2 oz of sliced pepperoni
1 chopped large pepper
1 cup of sliced basil
3/4 of a cup of Italian dressing
2 cups of diced tomatoes
A large baked and cubed pizza crust
First take the basil, cubed pizza crust, tomatoes and 1/2 a cup of the dressing and toss together in a bowl. After leaving the mixture to stand for approximately 5 minutes place what remains of the dressing, along with a punch of salt and pepper and toss once more. Your pizza salad is now ready to serve.
Pizza Based Pasta Salad
For a slightly more adventurous pizza salad it is possible to add other ingredients such as pasta, onions, garlic and olives.
The ingredients required for 2 servings are:
1/4 of a chopped tomato
80g small shell pasta
11g of sliced black olives
1/4 of a chopped red pepper
1/4 of a chopped green pepper
3 g of grated Parmesan cheese
25g of shredded mozzarella cheese
5 oz of sliced mushrooms
A large chopped onion
9g of sliced pepperoni sausage
0.4g of dried oregano
A pinch of salt
A pinch of pepper
50ml of Italian salad dressing
First cook the pasta in a large, slightly salted, pan of boiling water. The pasta should be cooked until it is al dente. Once this stage has been reached remove the pasta from the boiling water and rinse under a cold running tap before draining. Next take a large bowl and place the pasta inside along with the tomato, red pepper, green pepper, onion, olives, salt, pepper, mushrooms, oregano and pepperoni. These ingredients should be tossed together before placing the bowl in a fridge to chill. When ready to serve remove the salad from the fridge and add the dressing and cheese.
Pitta Bread with Pizza Topping and Salad
Pizza salads do not have to include meat. A delicious vegetarian pizza salad for 2 can be made by using
A medium chopped red onion
4 pitta breads
2 large chopped tomatoes
4oz of shredded cheese
A small bag of mixed lettuce leaves
50ml of salad dressing
First place the pitta breads in an oven and bake until they are toasted. Once toasted and still hot, liberally cover with cheese before placing the toasted pitta breads to one side. It is important to save some of the cheese for the salad. Next take the remaining ingredients, except the salad dressing and toss in a large bowl. After this place the pitta breads on the 2 plates and surround with the ingredients from the bowl before topping with dressing and the remaining cheese.
Pizza Style Pesto Salad on Bruschetta
A very quick salad to make is a pesto salad on bruschetta.
Required for this are:
One French stick
A small tomato
1 1/2 tablespoons of pine nuts
A bag of mixed Italian leaves
A cup of peas or beans
3 teaspoons of pesto sauce
A inch of salt and pepper
1/2 a tablespoon of lemon juice
First slice the French stick so you have several thick, round slices. Cover each slice with pesto sauce and bake for a few minutes in a hot oven or under a grill. Lay a slice of tomato on each bruschetta and then toss the remaining ingredients and arrange on top of the tomato and warm bruschetta. Serve immediately
You might also like...