How to Cook Starters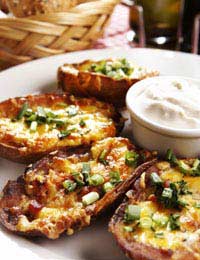 A good starter should awaken the taste buds, and get the diner to start thinking about a main course in earnest. Whether they're called entrees, hors d'oeuvres or appetisers they always serve the same purpose. Soups often make an excellent starter but in a formal dinner setting they will usually be served prior to the entree so I have avoided going into detail about them in this article.
Starters are usually only served in a more formal dinner setting, particularly dinner parties, although they are ideal for making a dinner for two into a special occasion. As such they should be quick and easy to prepare and serve while the main course is cooking. There are many excellent cold starters that can be thrown together from the fridge in a few minutes but, as with all other cooking, investing a little bit more time in them will pay off handsomely.
What is a Starter?
The starter is like the trailer that comes before the film. It is advertising other ingredients and how they can be combined and its purpose is to pique interest in the main event. Starters should always be small in portion size, otherwise there is a risk that diners may like it so much they leave themselves with no space for the main course. The idea is to get the diner's appetite racing with some clever combination of flavours and textures but without providing sufficient substance to satiate them. A successful starter is one that leaves the diner feeling even hungrier than when they sat down. It is a chance to demonstrate technical ability and creative flair on a small canvas and should prompt mouth-watering anticipation of the main course.
The ideal ingredients for starters then are those which have clear and distinct flavours without much in the way of volume. Tomato, mozzarella and basil salad is a good example. Goats' cheese and caramelised onions on a very light pastry also work very well.
Many of the ingredients commonly associated with Spanish tapas food are perfect for cold starters, such as olives, sun-dried tomatoes, capers and sharply flavoured cheeses. Sliced fresh melon and prosciutto is an Italian favourite.
Even dense ingredients such as potatoes can be made into a light starter by grating them, squeezing the starch out by hand and then forming into thin discs for roasting. Potato rostis made this way are particularly good topped with a little spiced chicken.
Pastry Starters
Pastry is another ingredient that requires extra care when it is being used in a starter dish. If the pastry is too heavy it will affect the enjoyment of the main course to follow so only the lightest pastry should be used, preferably filo. The advantage of using pastry is that it can be prepared ahead of time and then thrown in the oven when needed without affecting the quality of the finished result. Small pieces of chorizo and gruyere cheese pressed together and wrapped in a thin layer of pastry gives a cute and delicious appetiser that needs very little time to prepare and cook and packs a walloping flavour. Black olives and feta cheese are also ideal for this kind of pastry puff treatment.
You might also like...