Making a Fruity Chicken Pie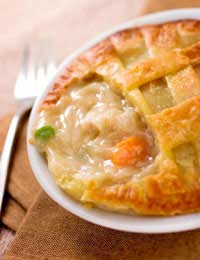 If you're looking for a proper homemade meal that is simple and quick to prepare - but looks as though you have been planning and preparing in the kitchen for ages - this one is a definite contender!
It is a useful idea for using up cold meat and 'stray' vegetables from the fridge (remember that one lonely pepper left lurking from the night before lasts' dinner)? As with most recipes, this one can be adapted to suit your taste and what you have in the fridge.
The following serving suggestion uses chicken and apple; but pork or turkey and apple (or pear) and lamb with dried apricots are just as tasty and simple. Why not try them all; or invent your own version?
This dish is an economical way of getting another main meal from your left-over roast without being at all predictable! Impress them with your ingenuity...
Other alternative ingredients include substituting the mushrooms with fresh peppers or celery. If you are out of fresh vegetables, the addition of some frozen sweetcorn or peas make useful alternatives and go well with just about any of the combinations mentioned!
Fruity Chicken Pie
Serves 4
350g boneless cooked chicken or other meat
50g unsalted butter
1 medium-sized onion, peeled and chopped
1 medium-sized cooking apple, peeled, quartered and sliced
300mls chicken or other stock
2 tsps curry powder or paste
25g plain flour
110g mushrooms, sliced
2 tbsp tomato puree
215g ready-made puff pastry
1 beaten egg to glaze
Salt and pepper to season
Fresh chopped parsley or pinch dried mixed herbs
Preheat the oven to 220C
Melt the butter in a heavy-based frying pan or skillet and fry the onion over moderate heat until translucent. Add the sliced apple and curry powder. Stir well and cook gently for 5 minutes. Sieve in the flour and mix well then, gradually stir in the stock and simmer until thick and smooth.
Add the cooked meat and mushrooms...
Next, add the cooked meat and mushrooms. Season the mixture to suit your taste with a little salt and pepper then, add the tomato puree and herbs. Stir well and cook the combined ingredients for another 5 minutes then transfer to your pie dish.
Roll out the pastry...
On a lightly floured surface, roll out the pastry (follow packet instructions for defrosting if using frozen pastry) so that it is just a little larger than the top of the pie dish you intend to use. Carefully place the rolled pastry over the pie dish and then cut it to fit the dish.Use the pastry scraps to make some decorative leaves and place them wherever you fancy on top of the pie.Use the beaten egg to glaze the pastry and sprinkle a little sea salt over the top. Use a sharp knife to make a small incision in the centre of the pastry.
Bake your pie in the preheated oven for approximately 30 minutes, or until the pastry is cooked and a tempting golden brown in colour. Serve straight from the dish or leave to cool.
This dish is great with mashed potato and fresh seasonal greens; or it can be served cold with a crisp green salad and French bread.
You might also like...