Spinach and Yoghurt Salad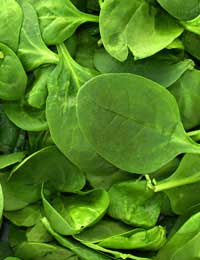 When many people think of spinach they will no doubt not put it at the top of their list of favourite foods. However, it is great ingredient to make a tasty and healthy salad that can be put together in approximately ten minutes.
Spinach and Yoghurt Salad
Here's how to make a spinach and yoghurt salad for two.
You will need:
2 chopped onions
1 clove of garlic that has been chopped
1/2 tablespoon of butter
1/2 teaspoon of curry powder
1/2 teaspoon of turmeric
1/2 teaspoon of pepper
1/2 teaspoon of cumin
bunch of spinach, that has been cooked and chopped
1/2 a cup of plain yoghurt.
Mustard Seeds
Another version of the spinach and yoghurt salad uses garlic paste and mustard seeds combined with fat free, or low fat, yoghurt.
You will require:
1/4 teaspoon of garlic paste
1/2 teaspoon of black mustard seeds
1/2 tablespoon of olive oil
1 cup of spinach that has been boiled
1 green chilli that has been sliced
1 cup of fat free or low fat yoghurt.
First take a shallow frying pan and heat the oil. Once the oil has become hot you can add the mustard seeds. These should be fried until they start to crackle. Once this happens you should add the green chilli. Next place the boiled spinach in the frying pan and saute until the oil is separated. After this it is important to allow the contents of the frying pan to cool down to room temperature. Next take a different bowl and blend the garlic paste and salt with the yoghurt. Once the ingredients are blended mix in the spinach and serve.
Orange Yoghurt
To really lift your spinach and yoghurt salad out of the ordinary you can add chick peas to the recipe and serve with a yoghurt sauce and cumin dressing. This will take approximately half an hour to prepare and is relatively easy to make.
Serves 2 - you will require:
8 ounces of chick peas that have been drained
1/4 of a cup of parsley that has been chopped
1/4 of a cup of red onion that has also been chopped
3/4 of a teaspoon of cumin
1/4 of a teaspoon of lemon zest
1 tablespoon of lemon juice
1/4 of a cup of olive oil
2 cups of spinach leaves
a dash of salt and pepper.
First place the parsley, onion and chickpeas in a bowl. Next mix the lemon juice, cumin, olive oil, zest, salt and pepper together. Gently pour the dressing over the ingredients and mix. The chick pea salad should be served on the spinach leaves and the yoghurt sauce added.
The yoghurt sauce is made by using:
1/2 cup of plain yoghurt
1/2 teaspoon of orange zest
1/4 teaspoon of honey
1 tablespoon of orange juice.
Place all theses ingredients in a bowl and mix together.
You might also like...