Clean and Safe Cooking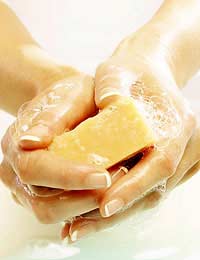 It is a well-known statistic that the majority of household accidents and injuries occur in the kitchen. The presence of sharp things and hot things means that respect must always be given to an environment that can potentially be dangerous for the careless or unwary.
The most important issue is hygiene. All raw foods contain some small levels of harmful, or pathogenic, bacteria. Thorough cooking is enough to kill these bacteria so they only become dangerous if they have the chance to build up and breed. By taking a few simple steps to minimise the possibility of this, unpleasant consequences can be avoided.
Hygiene
The general level of cleanliness in a kitchen is an important factor. Food prep surfaces that are regularly wiped down with anti-bacterial detergent never have the chance to build up harmful concentrations of bacteria, but equally important is the cleanliness of the places where food is stored. Cupboards, shelving and fridges should all be thoroughly cleaned out on a regular basis to prevent bacteria from gaining a foothold.
Badly stored food that is open to the air or spilling out into the back of a cupboard will inevitably attract vermin and the vermin will bring more bacteria. Setting traps will not work nearly as well as simply ensuring that opportunistic vermin that happen to be passing will not be able to find a free meal.
Storing Food
Labelling of stored food is important, especially in a tightly packed freezer where it may otherwise be almost impossible to tell what is inside a container until it is defrosted. Clear labels should show the date of cooking as well as a description of the contents so it is easier to keep track of what needs to be eaten by what date. It is also important to note that there is no such word as 're-freezing'. Once food has been defrosted it must be cooked immediately or discarded because of the increased potential for harmful bacteria to multiply. All meats should be completely defrosted before they are cooked.
Equipment
Chopping boards are a place where many of the potential vectors of food poisoning converge. An old, scarred chopping board provides an ideal environment for pathogens to lurk, even if it is washed after every use. Because of this, plastic chopping boards that are more resistant to scoring are almost always preferable to more expensive wooden ones.
The sheets of tempered glass that are increasingly found in modern fitted kitchens present the horrifying possibility of powdered glass entering food and should be avoided at all costs. Ideally, it is best to use separate chopping boards for meat, fish and vegetables as well as a separate board for food that is not going to be cooked to prevent cross-contamination between foodstuffs. When they begin to show their age, simply replace them.
Enthusiasts keen to become skilled cooks often spend a great deal of money on buying fancy mechanical gadgetry and knives of every possible size and shape. This is usually a waste of time. One good cook's knife with a blade between six and eight inches long, a sharp edge and a slightly curved profile is all that is required to produce the vast majority of dishes. Some other pieces of kitchen equipment, such as a mandolin, can be useful for doing certain very specific things but are best left until a certain level of competence has been reached.
Counter-intuitively, blunt knives are more likely to result in bloody accidents than sharp knives. A well-balanced knife with a good edge will consistently cut the same way and remain under control more readily. A blunt knife is far more likely to deviate from its intended track and turn under pressure, presenting a hazard to anyone using it. Maintaining knives in good condition is an essential prerequisite for safe cooking.
Dos and Don'ts
Apart from these specific points, there are a few more general dos and don'ts to observe during all cooking operations.
Always wash your hands before handling food.
Never walk away and leave things cooking on an open flame.
Always give your cooking area a clean before and after using it. Clean as you go.
Never add cold, cooked food to a hot pan of food on the stove.
Only joints of red meat and some game birds should be cooked rare. All other meats and fishes should be thoroughly cooked.
Ensure you have a good supply of clean dish towels.
It is most useful to think of a kitchen as an inventor's workshop rather than an artist's studio or a scientist's lab. Many of the implements and materials used in cookery can potentially be dangerous if not treated with care. The workshop is safest, most efficient and most pleasurable to be in when it is clean, tidy and well-organised.
You might also like...