Cooking for Two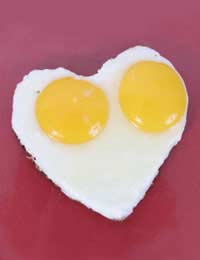 Cooking for two can be more fun than cooking for any other number, especially when it's two people doing both the cooking and the eating. If cooking can be an adventure, how much more fun to explore with somebody else?
Sharing not only the eating but the preparation of a meal is the best way to get the absolute maximum of pleasure from both the ingredients and the process of preparing them. This also provides the advantage of having two sets of hands that can work on different dishes, or different parts of the same dish, at once. As a cooperative creative activity cooking offers a regular opportunity to experiment and innovate together.
Politics
Many issues frequently arise that are rarely encountered when cooking alone, not the least of which is the politics of picking. How much of the ingredients can or should be consumed before they eventually get to the plate can prove to be a bone of some contention. Resolving such differences of opinion is half the fun.
The exasperation caused by a cooking partner continuing to tuck into the prep before it can be used is all part of the experience and should only ever be embraced. In a busy working kitchen this is anathema but when cooking for two at home, harmony usually takes priority over strict discipline. What particular level of compromise, if any, is eventually reached is of course a matter purely for the individuals concerned.
Cooking for two people usually means having the time and the motivation to give greater consideration to things like timing and presentation. It is a good opportunity to try making three courses in smaller portions, a luxury difficult to justify if you are only cooking for yourself but useful to have experience of when it comes to cooking meals for a number of guests.
Servings
Most cookbook recipes give instructions for four servings so they are simple enough to scale down. Many other types of dish are ideally served for two. The inherent symmetry in serving two halves of a butternut squash that have been roasted and piled high with mushroom and cashew stuffing lends a striking visual aspect to a meal that already boasts a diverse and delicious spectrum of textures and flavours. Certain fish such as trout and bass are ideal for stuffing with lemon and fresh succulent herbs, wrapping in foil and baking.
Even fairly complex meals can be prepared surprisingly quickly with two pairs of highly motivated hands working on them. One person chopping as the other person throws things together in the pan and starts cooking can save a lot of time, although the timing has to be sensitive to how fast the chopper can get things ready.
For Example
A warming coconut curry is a perfect dish for two to cook together. One person starts frying some onions, garlic, ginger, chilli and chicken strips at a moderate heat while the other continues chopping more ingredients, opening tins and boiling greens so that they can go in as soon as they are ready. This gives the chicken time to cook through and helps to ensure that the vegetable ingredients don't become overdone.
These extras might include:
Butternut squash, sweet potatoes or carrots roasted with spices for extra flavour.
Broccoli or green beans briefly plunged into boiling water before being added to the pan.
Baby corn or asparagus.
Water chestnuts and bamboo shoots.
Loose leaf spinach, though this should only be added at the last minute.
Lime leaves, lemongrass and fresh herbs, particularly coriander, also work well.
A spoonful of red curry paste will infuse all the ingredients with lots of flavour.
Coconut milk or creamed coconut and water should only be added towards the end of the cooking process. Once it is in the pan it is important to turn the heat down as coconut milk will split if it is boiled for any length of time. A gentle simmering is quite sufficient.
The main thing to remember when cooking for two is that the more fun you have while cooking the meal, the more you will (most likely) enjoy eating it. If something goes terribly wrong, it is easier to deal with it as a team and the personal reward for successfully coping with dramatic and unexpected consequences far outweighs the potential for embarrassment. Cooking together is a chance to learn new things about not only the relationship that you have with the person you're cooking with, but also about yourself.
You might also like...