How Our Diet Has Changed in the Last 20 Years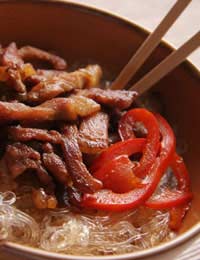 The rate of change in the modern diet has been astonishing. You don't have to be very old at all to have experienced completely new foods or ways of cooking - that then become commonplace in your diet.
Some examples of this are squid, which was viewed with deep suspicion by most British people until the late 1980s but is now appears as a staple 'pub' food in calamari and chips and the chicken curries that were once eaten only by British civil servants in India, but now eaten every day of the week in the hundreds of thousands. But novelty is not the only way that our diet has changed and our eating and cooking behaviour with it.
More Processing, Less Cooking
The biggest change has been in the exponential growth of food processing, preparation and cooking – much of which now takes place in factories rather than the domestic kitchen, as was the case up until the 1980s.
The Swinging Sixties brought with them a period full employment, which resulted in many married women choosing to work full time and this resulted in more disposable income. Oddly, since 1988, the percentage of cooking done by married women hasn't changed, although many more single men shop for and cook their own food now than they used to in the eighties. So these married women and single men tend to buy a huge amount of 'ready meals' – dishes that have been pre-prepared and only need to be heated, commonly known as 'TV dinners'. The other new area of cooking has been in 'convenience meals' which are semi-prepared and need a small amount of preparation at home, for example the meal kits which contain a tomato based spaghetti sauce and fresh chilled pasta, for combination in the kitchen at home.
These meals are viewed as convenient by their consumers but often looked down on by food purists who complain both about the nutrition content of such food and the cost. Many elements of take-away meals are not considered to be as healthy as preparing the same dish at home. As an example, fish and chips, which has been a traditional element in working class lifestyles since the nineteenth century is often considered to be nutritionally dubious because of the deep frying and socially unacceptable because of litter and the anti-social behaviour of eating in the street.
More Adventure, Less Tradition
Most of us cook much more adventurously than we did twenty years ago, including staple foods and special dishes from around the world in our diets on a regular basis. New additions to our cooking regimes include couscous, sushi and sashimi, raw food cooking and organic meals. We also buy foods that we don't generally cook at home, such as kebabs, Indian sweets and naan and chapattis.
Above all, we cook more for ourselves than we ever used to. Traditionally women put food on the table for the children when they got home from school and then man of the house when he returned from work. This is definitely no longer true: women cook for their own tastes, to learn new skills, to emulate chefs and meals they've seen on TV or in magazines, or just because they want to try cooking a meal that they've eaten in a restaurant or on holiday. Cooking is now done by all members of the family, using microwaves and other labour-saving devices and the family dinner or Sunday roast has all but disappeared from our national heritage.
You might also like...