Quiz: Discover Your Celebrity Chef Cooking Style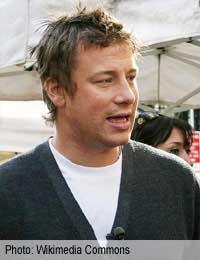 Celebrity chefs and famous cooks have become the touchstone of our cooking experience. 'Doing a Ramsey' is now a phrase used to describe somebody who swears profusely and has come about because Gordon Ramsey, the TV chef is so well known for his blistering language.
'Mockney cooking' is any kind of basic British food tarted up, such as fish and chips made with fish goujons rather than cod or haddock, and devolves from Jamie Oliver the 'mock Cockney' who is famous for taking traditional dishes and giving them a modern twist.
But which celebrity chef is your cooking style most attuned to, and how can you tell whose recipes are closest to your own culinary preferences? Our light-hearted quiz helps you find out.
A. When preparing a meal for the family...
How important is it to lay the table properly?
Not at all important, as long as everybody has got cutlery and a place to sit down, you don't even need a table, you can eat off your lap?
Vital, the way the table looks, where people sit and having a sense of occasion even for a simple meal all contribute to the enjoyment of the food
It depends on the meal, some foods need a special implement or serving dish such as fish knives etc and eating those foods without the right implements can impair the diners' satisfaction.
B. When cooking a recipe from a book...
It's vital to use exactly the ingredients specified, in exactly the amounts mentioned.
No, not at all, you can always substitute similar things if you want to experiment
It depends on the recipe – something foods are more tolerant of adjustment than others
Almost never – recipes survive the test of time by working perfectly and shouldn't be tampered with.
C. Puddings and cakes are an essential part of British cuisine...
And having something sweet and tasty at the end of every meal makes people feel that they've really eaten well.
Yes, a good pud gives everybody a happy stomach and the feeling that they've been properly fed and looked after
A dessert can be a great end to a meal and a cake can be a centrepiece to an occasion but there are other ways to make celebrations fun
No, by and large a person who has been fed with a good starter and main course will only want a light sweet to clear their palate or maybe none at all.
D. Cooking requires a lot of time and effort.
No, you can cook in a short time and have fun, or involve the whole family to make cooking a social event
Yes, sometimes cooking requires a lot of preparation, especially for celebrations like Christmas or family events, but it's worth it to make sure that everybody eats well
Yes, cooking requires thought beforehand and planning during the process but these skills are worth developing to become a good cook.
E. British cooking is generally very poor
British cooking is great, if you cook for people you love and enjoy what you're doing
British cooking is best when mixed with the best of other cuisines too, to create menus that blend or fuse different traditions
British cooking can be good but it's best to keep different culinary cuisines separate as different ingredients and tastes may cancel each other out.
Mostly 1
You're straight out of the school of Jamie Oliver and Delia Smith, both of whom are self-taught cooks who learned their skills in the kitchen, not at catering college. Both are good at changing recipes to make them work for a modern world and 'cheating' by making them simpler. You'll thrive on al fresco cooking, barbecues and cooking for sudden arrivals.
Mostly 2
Nigella Lawson and Nigel Slater are your beacons of cooking light. Nigella has been called the 'queen of food porn' for her flirtatious manner and Slater is famous for his uncomplicated, comfort food recipes. Both of them really have emotional and sentimental connections to food and family and love celebrations. You'll love to cook for parties and big family events.
Mostly 3
You're an intellectual cook in the line of Elizabeth David who almost single-handedly brought French and Italian cooking into the British home and Hugh Fearnley-Whittingstall: journalist, food writer and 'real food' campaigner who is famous for his back-to-basics food philosophy. You'll be happy with a good cookbook and a substantial amount of research into the dish you're cooking before you get started.
You might also like...