Men Cook from Mars, Women Cook from Venus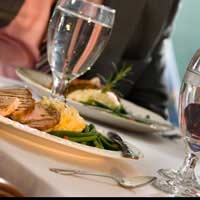 Recently the Astor Food and Wine Centre in New York ran a test: male and female chefs both cooked foods for a panel of food writers, reviewers and restaurant owners. Could they tell the difference between food cooked by men and food cooked by women?
The simple answer is no, they couldn't. But on the other hand, trained chefs and domestic cooks are not the same animal at all. The way men and women cook in the home and the way restaurant chefs cook for diners can't be compared. The panel of judges came up with a list of differences they felt existed between men and women cook in restaurants including:
Female chefs using spices more subtly than male chefs
Men using more toys and gadgets in their cooking
Female chefs favouring soulful traditional style food, especially dishes learned from mothers and grandmothers and male chefs preferring to demonstrate 'dazzling' and technique-driven cooking such as flambéing or preparing dishes at table
Men wanting to cook red meat while women tend to cook pink food and use edible flowers as decoration
Women chefs are likely to follow instructions more carefully than their male counterparts.
Many of these claims turned out to be just wrong. A male chef made a pink cocktail and the judges decided it was a woman's food, while a female cook made a steak and pate dish that everybody thought was masculine!
Equally, it's difficult to compare cooking in different cultures. In many places, certain kinds of cooking are done by men rather than women, such as sweet-making (seen as traditionally feminine in the West) in India and Egypt.
So What Do Men And Women Cook?
There are some differences though – for example, traditionally, men have become the experts in outdoor cookery, such as barbecuing and also fish cookery, especially where they've caught the fish themselves. It does seem true that Western men like to cook meat meals, possibly because they don't generally require a recipe, and men, generally speaking, seem to prefer not to work from a book but enjoy improvising. And this red meat preference extends even to barbecuing, because when men cook meat over coal, they do expect their female counterparts to provide the salad dishes to complement the meat!
Women are much more likely to provide a pudding that they've slaved over than men are. Surveys of shopping purchases show that men tend to buy ready-made puddings especially traditional puddings like steamed puddings and crumbles while women are given to buying ingredients and making a dessert from scratch particularly cakes and puddings with fresh fruit and cream.
Also, men cooking at home do seem much more likely to cook a meal that utilises gadgets: although fish poachers and bread-makers don't count nearly as much as hand-blenders, pasta-makers and anything that whizzes and cuts things into strange shapes.
Women do seem to stick more closely to recipes than men, but this may be because they tend to also do the grocery shopping, and have an idea in their heads about the meals they have done the purchasing for. Because they don't want to throw food away once purchased, they are likely to use up leftovers in unfamiliar dishes which means getting out the recipe book and seeing how they can utilise spare food before it goes bad.
You might also like...