Squid and Roast Vegetable Salad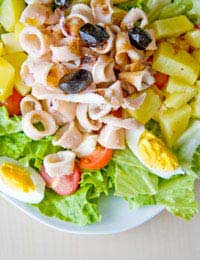 Squid is one of the most underrated sea foods. Not only is it delicious, but easy to cook and healthy.
Squid can be the main ingredient of a roast vegetable salad or it can be used in combination with other sea food ingredients, such as prawns, muscles and shrimps to make a really delicious and healthy sea food salad. It is often thought that squid and octopus has to be fried before it can be eaten. In fact boiling or steaming is not only healthier, but just as delicious.
To make a squid roasted vegetable salad for 2 you will need:
2 rosemary sprigs
2 squid tubes(these usually come in packs of 4-7)
1 red pepper that has had its seeds removed and has been cut in half
3 cloves of garlic that have been peeled
1/2 a tablespoon of olive oil
4 shallots that have been peeled
To make the dressing you will require:
The juice from 1/2 a lemon
A pinch of salt and pepper
2 tablespoons of virgin olive oil
1/2 a tablespoon of parsley that has been chopped
First take the pepper and, after slicing into strips, put it in a large roasting dish along with the rosemary and shallots. Once you have done this pour a tablespoon of olive oil into the dish and gently mix to ensure that the vegetables are well coated with the oil. After you have done this the vegetables should be roasted for approximately 25 minutes at gas mark 7 or 220 degrees C. After this time take the garlic cloves and to the mixture, stirring 4 times. You should then leave the contents of the dish to roast for another 25-30 minutes, by which stage the vegetables should have become gold in colour and tender.
Preparing the Squid
Now we move on to preparing the squid for cooking. First take the squid tubes and wash out the inside under a hot tap and cut into thin sections, so each section resembles a ring. If the squid tubes are frozen, and you have not first defrosted them, it is a good idea to run them under a hot water tap so that they become more flexible and easier to cut. Cutting frozen squid tubes can be hard going. Once cut into rings place in simmering boiling water for approximately 10 minutes.
Next use the rind from the lemon and fry in oil for approximately 45 seconds, by which time it should be nice and crispy. Once frying is finished take the lemon rind out of the frying pan and sprinkle with salt.
Next, using all the ingredients for the dressing, place them in a bowl and mix well together, until they are well blended. Once this has been completed take and pour over the vegetables, ensuring that the vegetables are well coated. Once complete add the squid and make sure it is mixed well with the vegetables.
Should you wish to fry your squid, take a non-stick frying pan and, using a tablespoon of olive oil, heat until hot and place the cut pieces of squid in the frying pan, ensuring that you stir well with the thyme. After approximately 2 minutes remove and, after gently mixing with the vegetables, leave to cool for 15 minutes and serve with parsley and lemon rind.
You might also like...