Seafood Salad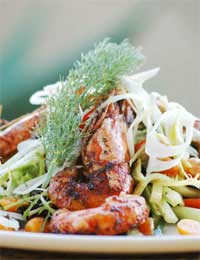 Seafood salad is fantastic, for not only is it delicious but it is healthy, easy to prepare and you can use a variety of seafood ingredients to suit your personal taste. To make a seafood salad will take between 45 minutes and an hour.
Recipe
To serve 2 you will need:
150g of squid. This can be easily purchased from shops, especially those that serve the Chinese community and some fish mongers. The squid should be sliced into rings.
1/2 kg of mussels
300g of raw tiger prawns that have been peeled and deveined
The juice from 1/2 a large lime
A tablespoon of avocado oil
50g of rocket
A finely chopped shallot
A handful of parsley
To make the chilli and lime salsa you will need:
1/2 a clove of garlic
1/2 a red chilli that has had its seeds removed
The grated zest from 1/2 a lime
A handful of mint
First take a large pan and place the stalks from the parsley and a black peppercorn in 90ml of water and bring to the boil. Once the water is at boiling point add the muscles to the pan and cook for approximately 8 minutes. Use a slotted spoon to remove muscles and put aside any that have not opened, as they are probably not fit to eat.
After you have done this take the squid and prawns and add these to the pan, cooking them for approximately 4 minutes and removing them from the water using a slotted spoon. Next take the liquor and boil in the pan until it has reduced by approximately half. Once this has happened retain approximately 3 tablespoons of it and place it in a bowl to cool. Then take the avocado oil along with the lime juice and mix well before adding the shallot. Once this stage has been completed take the squid, prawns and shelled mussels and mix well together before covering and placing in the fridge.
Making the Salsa
To make the salsa to go with your seafood salad blend together the garlic, zest and chilli before adding the mint and parsley leaves. Once this is done mix the shallot dressing and seafood together before folding inside the rocket and pouring over the chilli and lime salsa.
Using Crab or Lobster
It is possible to vary the type of seafood salad you wish to eat and if you are in a hurry and want to make a seafood salad in less than 20 minutes then this recipe could be for you.
You will need:
1/4 of a cup of mayonnaise
A teaspoon of lime juice
1/4 of a cup of celery, that has been chopped
1/4 of a chopped red onion
A cup of crab or lobster meat
1/2 a tablespoon of chopped dill
1/2 a medium size cucumber that has been peeled and had its seeds removed
First take a large bowl and mix the dill, lime juice and mayonnaise together before mixing in the remaining salad ingredients. Then place in the fridge for approximately 20 minutes before serving.
You might also like...