Turning Leftovers Into Great Dishes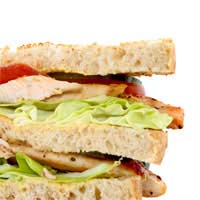 Learning to use leftovers is important because it reduces your food budget and saves you time – knowing how to get a second great meal out of what's left from a first great meal is a way of not having to cook from scratch every evening. There are food safety considerations to bear in mind.
Handling Meat Leftovers
Debone any cooked meat and refrigerate it in shallow lidded containers within two hours of finishing your meal.
Deep containers can trap heat in the meat at the very centre of the heap and that can allow bacteria to breed.
Use leftover meat in 3 to 4 days or freeze it, once it is thoroughly chilled in the fridge.
When reheating meat ensure it reaches a temperature of 165 degrees F or 74 degrees Celsius – a meat thermometer is valuable for this purpose.
Poultry Leftover Cuisine
Any poultry such as chicken, duck or turkey, makes a wonderful first meal and any leftovers are absolutely delicious.
Chicken Gourmet Sandwich
Slice chicken into long strips. Spread salsa or mild wholegrain mustard on a piece of wholegrain bed, or a roll then add shredded lettuce mixed with rocket, a sliced tomato and some mozzarella cheese. Place the chicken on top.
On another piece of bread or the top of the roll, spread mayonnaise and sprinkle some mixed herbs. Put the two pieces together, pierce the whole thing with a cocktail stick to hold the shape while you cut it in two and you have a delicious sandwich.
Turkey Tarragon Pita Breads (Serves 2)
This makes an ideal lunch.
70 ml yogurt
1 tablespoon mayonnaise Fresh or dried tarragon to taste
Lemon juice
Cubed cooked turkey leftovers
A handful of seedless grapes, sliced in half
2 wholewheat pita breads
4 lettuce leaves, shredded
Mix together the yogurt, lemon juice, mayonnaise and tarragon and then gently fold in the meat and grapes with a metal spoon. Cover the bowl and refrigerate for an hour or overnight. Cut the pita breads in half and line them with shredded lettuce before filling with the turkey mixture.
Roast vegetables
If you have roast vegetables left over from a traditional Sunday lunch, have them with grilled chop or some crisp green salad for supper on Monday. To make them really tasty, cut them into uniform sized pieces and mix them well in a little olive oil. Sprinkle with Mediterranean herbs and put in a roasting tin in a preheated oven. Top with some grated Cheddar and mozzarella and put in the oven until the cheese is melted and golden.
Pasta
Leftover pasta can be unappetising, but it makes a great breakfast and is a wonderful way to use up other leftovers in a dish that gives the impression of being a gourmet meal.
Frittata (Serves four)
A bowl of cooked pasta
5 eggs
Cooked sausage or ham, or slices of salami or pancetta
A sliced onion
A chopped tomato
Some cooked green beans
Some thawed peas
Freshly grated Parmesan
Preheat oven on high and put a large non-stick frying pan over low heat on the stove. Add a little olive oil and shake the leftover pasta gently in the pan to warm through. While it warms, put the eggs, cheese and preferred seasonings in a bowl and beat together. Layer meat evenly on the pasta and the vegetables over the meat and cover the whole area with the egg mixture. Raise the heat to high and as soon as the egg has just set, transfer the pan to the oven, leaving it open and the handle sticking out.
In about ten minutes the Frittata will be firm and golden brown underneath.
Leave for about five minutes to firm further and then loosen the sides of frittata from the pan with a wooden or plastic spatula and slide it onto a serving plate. You can serve it cut into wedges either hot, or at room temperature.
Bread
Leftover bread can be used to make decadent Sunday morning brunch when you turn it into French toast topped with a spoonful of chopped pineapple or berries to add some vitamins.
French Toast (Makes Four Slices)
Traditional French bread can be high in calories and saturated fats, this recipe keeps all the flavour but reduces some of the fat. Take a breakfast plate and pour milk into it, use this to coat both sides of slices of white bread. In another plate combine 1 egg and 2 egg whites, some milk and a drop of vanilla extract. Dip the milky bread in this too.
Now put the bread in a pan in which you have melted some butter. Cook, turning once, until both sides are browned which takes around two minutes. Sprinkle with cinnamon and put in a warm oven while you make the other slices. Eat warm, topped with some crushed pineapple or a handful of seasonal berries.
You might also like...