Test Your Cooking Knowledge: Questionnaire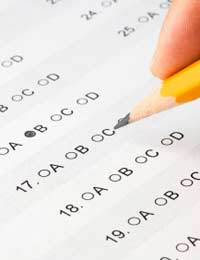 It's not always fun to be a cook, and if you're the one who has to whip up healthy and enticing meals for your family or loved ones, day in, day out, it can often become something of a slog.
Here's a fun quiz with a more serious purpose – it gently tests your cooking expertise and helps you understand the kind of cook you currently are, and the potential you have to get more joy from your cooking.
It's divided into several sections that each deal with a key area of cooking expertise.
Ingredients
If you were asked to pick up a Grenadier where would you look?
1. The fish counter
2. The fruit counter
3. The baking equipment counter
4. The clothing counter
5. The dried foods counter
Equipment
What is a bain marie?
1. A pan of hot water in which a bowl of food is placed for slow cooking
2. A sauce like marie rose sauce which is cooked in a large shallow dish called a bain
3. Marie is a way of cutting vegetables with crinkly edges
4. It's a table centre piece with flowers floating in a bowl of water
5. A sweetmeat served during the festival of the Virgin Mary
How many cookery books do you possess?
1. Probably eight or more, which you use for inspiration
2. The one you got as a newlywed or when you started college
3. None
4. Two or three, although you know most of your recipes by heart now
5. Dozens, you can't walk past a bookshop without buying one
Which is your favourite kitchen appliance?
1. The oven
2. The cast iron frying pan your mother gave you when you set up home – it's great for making breakfasts
3. The telephone for ordering in food
4. The grill – healthy and fast
5. The most recent one you purchased – there's always something new to buy to make your kitchen more stylish and fun
Cooking Style
If you cook a meal for somebody, how are they most likely to describe it?
1. Delicious
2. Familiar and fuss free
3. Unusual
4. Healthy
5. An exciting occasion
What's your Culinary Philosophy?
1. To cook a good meal is a reward in itself, quite apart from the nutritional and budget benefits you get from not eating out.
2. Cooking is easy once you've learnt a few dishes – why complicate it?
3. Cooking is a bit of a nuisance, but you do it when you're in the mood
4. Eating a good diet requires you to cook your own food
5. Cooking is the new black and you look great in it
Techniques
What is blanching a vegetable?
1. Immersing it briefly in boiling water
2. Frying it gently in butter
3. Not sure
4. Soaking it in cold water to remove pesticides
5. Making it whiter by adding lemon juice
What is baking blind?
1. It means to bake pastry for a short time without filling
2. It's cooking pastry under tinfoil
3. Baking blind is one of those competitions where people have to guess what they are eating when blindfolded
4. Blind baking is reducing the fat in pastry to make it healthier
5. Baking blind not making holes in the top of pastry
Answers
Mainly 1 – You're an expert cook, congratulations – give yourself a pat on the back, but make sure you share your expertise (and kitchen) with other family members or you might become a bit of a know-it-all.
Mainly 2 – You're a traditional cook, nothing wrong with that, and what you cook is always very good. Allow yourself to be a little more imaginative from time to time, you might surprise yourself!
Mainly 3 – You view cooking as a bit of an adventure. That's a very positive attitude, but getting some more of the basics under your belt could help you feel more grounded.
Mainly 4 – You're always aware of the nutrition and calories in food, this is a great skill, but it doesn't do any harm to indulge yourself – and your loved ones – once in a while with something extravagant and indulgent
Mainly 5 – You're a stylish cook and every meal with you is a party! While this is great fun, you might want to focus a little more on your key skills so that you can feel confident about your cooking without having to check the recipe book every few seconds.
You might also like...