What to Keep in Your Store Cupboard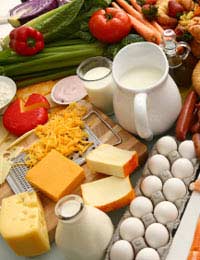 Your store cupboard is an essential part of your kitchen. Not only should it hold day to day basic ingredients and foods but should also be a source of interesting items that you can call upon when you have to prepare a meal out of the blue or need to follow a recipe. If you open the door of your store cupboard and only have half empty salt and pepper pots, a sticky bottle of tomato ketchup or some over dried herbs that are out of date it is time to reorganise yourself and have a store cupboard to be proud of.
Clear Out
First go through your cupboard and take everything out. Check dates on packets and tins and throw everything away that is out of date. Do not be tempted to use it or feed it to the dog – why should he suffer because of your thrifty attitude? Check packets of dried pasta and flour that have been opened as they tend to attract small weevil type black bugs that can spread to other food stuffs. Clean out the cupboards and if necessary line them with paper.
Containers
Treat yourself to plenty of plastic airtight containers in various sizes. Once a packet of any dried foodstuff is opened decant it into the container and label it remembering to add the use by date. Labels are also good so that you can distinguish what is in the packets as there is nothing worse than having to open ten identical containers looking for your cornflakes first thing in the morning!
Stocking Up
Make a list of every type of foodstuff that you regularly use and note all store cupboard basics that you always use. Purchase them in larger packets or when they are on special offer. If you are stocking up you may as well save money as well. Remember the type of foods that usually accompany each other such as parmesan cheese, tins of chopped tomatoes and pasta. If you like to have cans of whole tomatoes with your full English breakfast why not stock up on the tins of whole tomatoes as they can be quickly chopped if you need to cook with them. Tinned fruit will provide a quick dessert and if preserved in a healthy juice rather than syrup can add to your five a day requirement.
Beans, Pulses and Rice
All types of beans including the popular baked beans are ideal store cupboard basics. Yes, you may like to eat the well known brand but the supermarket cheaper varieties are perfectly fine for adding to casseroles and chillies. Canned Chick peas, sweet corn, potatoes, mushrooms can also be ideal items to call upon if you need to make a quick meal from scratch. Packets of dried pulses, lentils in different colours, pearl barley and rice again are good store cupboard basics and can be turned into curries and added to stews to make a filling meal.
Pasta
If you are in hurry pasta with canned tomatoes a few herbs and some parmesan cheese makes a very tasty lunchtime snack. Store pasta of different shapes not just the long straight variety this way you can make pasta bake with a tin of tuna as well as a Bolognese with the longer variety. Remember to keep it in a sealed dry container after opening.
Fish and Meat
Fish such as salmon, tuna and mackerel are excellent for the store cupboard. Served as sandwiches or with pasta or mashed potato they can make a very nutritious meal.
Herbs and Spices
Curry powder, chilli and assorted herbs can transform a bland meal and make it more interesting but don't let these ingredients pass their sell by dates!
Porridge and Cereals
Do your family always eat the fancy expensive cereals that seem to run out quickly? By keeping a stock of porridge oats you will always have a meal for breakfast – they are tasty as flapjacks as well!
Flour and Baking Ingredients
Always have flour, yeast and other baking ingredients in your cupboard. If you have the ingredients to make bread or rolls or a tasty cake you are well on your way to providing another meal for your family. Salt and pepper can also be a good addition. There are the every day salt and pepper you put onto your food and then there are the salt and pepper varieties that are slightly more unusual like lemon pepper for fish and sea salt for cooking.
Convenience Foods
Never underestimate convenience foods when stocking up your store cupboard. They can really help bulk up your food supplies. Items such as savoury rice, tins of soup, ready mix custard or even a tin of stewed steak and a packet of mashed potato can be valuable when there is nothing else to eat if you have not been shopping or the weather is too bad to leave home.Not only is a well stocked store cupboard ideal for everyday meals it can be relied upon to stretch out family meals when money is short but help to feed you when the freezer is empty.
You might also like...