Ginger Salad Dressing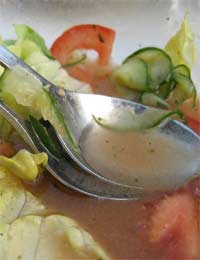 When one thinks of salads and their dressings, ginger is not an ingredient that immediately springs to mind. Yet it can be a great addition to the recipe and produce a taste bud sensation that can transform a salad.
Oriental Style Ginger Salad Dressing
To make this dressing for 2, in just 15 minutes, you will need:
10 ml of soy sauce
3g of fresh minced ginger root
50 ml of olive oil
1/4 of a juiced lemon
2 ml of Dijon mustard
3 ml of honey
A pinch of black pepper
1/2 a clove of minced garlic
First take a bowl and mix together the garlic, soy sauce, lemon juice, honey, ginger, mustard and pepper. Once these have been mixed well together you may gently add the oil, continuing to mix the ingredients as you do so. Once this has been completed place the dressing in the fridge until you are ready to serve.
Oriental Cucumber Salad and Ginger Dressing
Ginger is excellent for using in salads as well. One such salad is the Oriental cucumber salad. For this you will need:
1/2 a cucumber that has been finely sliced
1/2 a teaspoon of sugar
3 spring onions, that have been finely sliced
1 and a 1/2 tablespoons of sesame seeds
1/2 a teaspoon of ginger paste
2 tablespoons of rice vinegar
1/2 a teaspoon of salt
1 teaspoon of toasted sesame oil
1 teaspoon of black pepper
2 fish cakes
To make the dressing you will need:
1/4 teaspoon of ginger paste
40 ml of chilli dipping sauce
A splash of rice wine vinegar
30 ml of water
To make the Oriental cucumber salad, first mix the sesame oil, ginger, pepper, salt, vinegar and sugar together. Next take the sesame seeds, cucumber and spring onions and add to the mixture. After this you should set the mixed ingredients to one side,for approximately 40 minutes, giving the flavours an opportunity to develop and allowing you to cook the fish cakes. Place the salad on a serving plate before adding the fish cake and pouring the salad dressing around the edges of the plate.
Ginger Carrot Dressing
Ginger carrot dressing goes well with a mesclun and mango salad. To make this you will need:
A tablespoon of sesame oil
A tablespoon of grated carrot
1/2 a tablespoon of grated root ginger, the fresher the better
1/2 a teaspoon of lime juice
A mixed salad bag
A teaspoon of sesame seeds
1/2 a peeled and diced mango
First take a bowl and mix the ginger, rice vinegar, carrot, sesame oil and lime juice together. Next take another bowl, containing the salad leaves and mango, and mix with the ingredients from the first bowl, ensuring that everything is well coated. Once this has been done you may add sesame seeds to the mixture and serve. To make a mesclun and mango salad should take approximately half an hour.
You might also like...