Red Plum Vinaigrette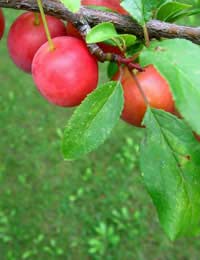 Red plum vinaigrette is remarkably quick and easy to make and really adds something extra to salads.
Red Plum Vinaigrette
To make this you will need:
A tablespoon of shallots, that have been finely chopped
A pinch of salt and pepper
1/4 of a cup of dried plum red wine vinegar
A tablespoon of Dijon mustard
3/4 of a cup of olive oil
First, using a bowl, take the mustard, vinegar and shallots and mix well together. Next gently add the oil, ensuring that you continue to mix the ingredients well as you do so. After you have done this, take the salt and pepper and add to the mixture.
Goat Cheese, Plum and Tomato Salad
In addition to being an useful ingredient for vinaigrettes, plums can also be used in the salads themselves. Goat cheese, mache, plum and tomato salad is delicious, especially when combined with a baked plum vinaigrette.
To make the salad you will need:
3 plums that have been thinly sliced
3 tablespoons of soft, crumbled goat cheese
3 oz of mache
5 cherry tomatoes, that have been cut in half
To make the baked plum vinaigrette you will need:
2 tablespoons of olive oil
2 lbs of plums
A tablespoon of honey
2 tablespoons of lemon juice
A teaspoon of cracked pepper
A teaspoon of Dijon mustard
A tablespoon of thyme
A pinch of salt and pepper
1/4 of a cup of red wine vinegar
First divide the mache equally on the plates, before adding tomatoes and topping with goats cheese. Next pour over the vinaigrette, ensuring everything is well coated, before adding the black pepper.
To make the baked plum vinaigrette take the plums and gently toss together with thyme, honey, lemon juice, oil and pepper. Once you have done this place in a medium heat oven until the plums have become brown and are soft.
Once baked, remove the plums from the oven and set to one side, allowing them to cool down. Once the plums are cool enough to handle slice them in half and remove their insides before converting them into puree. Next add the honey, Dijon and vinegar and gently add the oil, along with the salt and pepper, during the puree process.
Red Fruit Salad
Red plums can also be used to make a delicious red fruit salad.
For this you will need:
5 plums
5 apricots
1/2 a tablespoon of sugar
1/2 a cup of strawberries, if in season
1/2 a cup of seedless grapes
1/2 a cup of raspberries
1/2 a cup of blackcurrants
First you need to take the currants and berries and mix with the sugar. Next take the apricots and plums, having removed the stones first, and slice them into pieces, before putting half the amount in the pan with the berries. Once you have done this cook on a very low heat with 2 tablespoons of water, until the fruit is on the verge of softening and the juices are just beginning to run. The next stage is to set aside to cool, before adding the rest of the plums, grapes and apricots. You should then leave to cool, in a covered bowl, in the fridge until you are ready to serve.
You might also like...