Maple Thyme Salad Dressing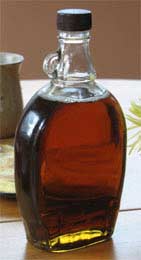 Maple and thyme salad dressing is a delightful dressing that goes with many salads. One of the most popular salads that it is associated with is lima bean and ham.
Maple Thyme Salad Dressing
For this you will need:
A cup of lima beans
3/4 of a cup of corn oil
A red onion, that has been peeled and sliced into thin rings
2 tablespoons of thyme
1 teaspoon of salt
A pinch of black pepper
A head of a red lettuce that has been separated into leaves
2 carrots, that have been peeled and thinly sliced
1/3 of a cup of cider vinegar
3/4 of a pound of ham, that has been diced
1/3 of a cup of maple syrup
First take the beans and place them in a large bowl, before covering well with water and leaving them to soak for approximately 9 hours.
Once the beans have been soaked, remove them from the bowl and place them in a large pan and covering well with fresh cold water. Over a medium heat bring the water to the boil, before reducing the heat and simmering. You should simmer the beans, ensuring that you stir them occasionally, and add the teaspoon of salt as you do so.
After approximately 20 minutes, check that the beans have become tender before removing them from the water and draining. Once the beans have been drained of excess water take them and place in a bowl.
Chill for 5 hours
Next take a large frying pan and on a medium heat, place the ham and a tablespoon of corn oil in the frying pan. Stir the ham constantly, ensuring that it is well coated in the corn oil. After approximately 7 minutes the ham should have turned brown and be crisp.
Once this stage has been reached, take the ham and place it in the bowl where the lime beans are. Next, without having cleaned the frying pan, turn the heat up high and add maple syrup and cider vinegar along with the remaining corn oil. You then need to stir in the thyme before pouring the hot dressing over the beans and ham.
Once this is done, toss in the carrots, stirring them well, before adding some salt and pepper and stirring again. The next stage is to allow the ingredients to cool to room temperature before covering and placing in the fridge to chill for at least 5 hours. Before you are ready to serve, remove from the fridge and ensure that the salad reaches room temperature.
Growing Thyme at Home
Thyme is a popular herb, comes in many different varieties and is a member of the mint family. Both the garden thyme and lemon thyme are common in the UK and because of their hardiness are able to withstand long cooking times. If you use thyme a lot in your cooking it may be an idea to buy a pot from your local garden centre. Thyme will grow with too much trouble on any warmish windowsill.
You might also like...