Peppercorn Salad Dressing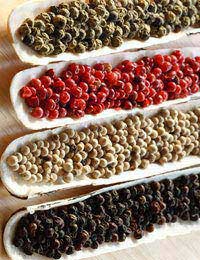 Peppercorn is a versatile ingredient that can be used to give your salad dressing that extra something. Peppercorn is the fruit of black pepper, with pepper being produced from the grinding of the peppercorn fruit.
To make a lower fat peppercorn salad dressing is relatively easy and just as delicious as the full fat version.
Lower Fat Peppercorn Salad Dressing
To make your low fat peppercorn salad dressing you will need:
1/2 a cup of buttermilk
A cup of low fat sour cream
1/2 a cup of light mayonnaise
2 mashed hard boiled egg yolks
A tablespoon of peppercorns
A dash of Worcestershire sauce
First take the egg yolks and a bowl and, using a fork, mash well before adding the mayonnaise and mixing well with the eggs. Once the mayonnaise has been mixed well you can then add your buttermilk. Once everything is blended together you can then add a dash of Worcester sauce and your peppercorns. If you so desire, you can also add other ingredients to your peppercorn salad dressing, such as honey or granulated garlic.
Creamy Peppercorn Salad Dressing
If you prefer your peppercorn salad dressing a bit more creamy you will need:
A tablespoon of Parmesan cheese that has been freshly grated
1/2 a cup of regular mayonnaise
1/2 a cup of regular sour cream
A pinch of garlic powder
A pinch of salt
A tablespoon of peppercorns
1/4 of a teaspoon of onion powder
A tablespoon of milk
Take all the ingredients and mix well in a bowl, adding more milk if mixture is too thick, before placing in the fridge for approximately 45 minutes.
Peppercorn, Apple and Salmon Salad in Less Than 1/2 an Hour
Apart from being used as a salad dressing, peppercorns can form an integral part of a salad. One example is peppercorn, salmon and apple salad. This can be made in approximately 25 minutes and you will need
The juice from 1 lime
8 dill sprigs
125g of salmon filet
2 tablespoons of hazelnuts
The juice from 1 mandarin
A pinch of salt and pepper
A fennel bulb that has been finely sliced
An apple that has been sliced and had its core removed
9 crushed peppercorns
A bunch of parsley leaves
3 tablespoons of olive oil
First, using a small frying pan, toast the hazel nuts in olive oil before adding the juice from the mandarin and lime. Once these have been brought to the boil, and the pan removed from the heat, add some salt and pepper and set aside to cool off. Your dressing is now ready.
For the salad, first slice your salmon into small sections and add equal amounts to each plate. Next take the dill, apple, fennel and parsley and place in a salad bowl before mixing in the salad dressing. Once you have ensured that the salad is well coated add to the plates, where you have already placed the salmon fillets, and top with peppercorns.
You might also like...