Pineapple Pasta Salad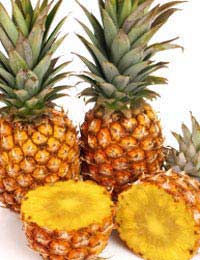 A pineapple pasta salad is relatively quick to make, tasty and healthy.
To serve 2 you will need:
5 teaspoons of red wine vinegar
3 ounces of macaroni, preferably the type that comes in the shape of a corkscrew
1/2 a red onion that has been thinly sliced and separated into rings
1/2 a teaspoon of garlic powder
1/2 a can of pineapple chunks
1/4 of a teaspoon of salt
2 1/2 tablespoons of vegetable oil
1/2 a teaspoon of Worcestershire sauce
1/4 of a teaspoon of salt
1/2 a teaspoon of mustard
1/2 a medium sized pepper that has had its seeds removed and has been diced
1/4 of a cup of broccoli
1/4 of a teaspoon of pepper
1/4 of a cup of cauliflower
To make the dressing to go with your pineapple pasta salad take a jar, with a lid that can be firmly fixed so as not to shake loose, and place inside the retained pineapple juice, garlic powder, vegetable oil, mustard, garlic powder, vinegar, salt and pepper before shaking the jar well which will ensure that the contents are well combined.
First take the corkscrew pasta and cook well. Once cooked, so it is not too firm, take the pasta and drain all excess water before rinsing under a cold running tap. Next take the pineapple chunks and drain them of their juice. It is important to retain approximately 2 tablespoons of this juice for use later on. Next take a large bowl and mix the past and cauliflower together, pouring the dressing over as you mix. Ensure that the pasta and cauliflower are well coated with dressing. Once this stage is completed you should place the bowl overnight in the fridge. Next take the pepper, onions, pineapple chunks and broccoli and mix well together before placing in the fridge until the time is ready for serving.
Giving Your Pineapple Pasta Salad a Mediterranean Twist
To give your pineapple pasta salad some variety it is possible to give it a Mediterranean twist.
To make a Mediterranean pasta salad for 2 you will need:
A tablespoon of chopped parsley
5 ounces of drained pineapple chunks
1/4 of a teaspoon of pepper
1 1/4 tablespoons of olive oil
5 ounces of cheese tortellini that has been drained and cooked
1/4 of a teaspoon of salt
3 ounces of turkey sausage that has been cooked, sliced and drained
1/2 a cup of red bell pepper that has been diced
1/4 of a teaspoon of salt
2 teaspoons of balsamic vinegar
To make your Mediterranean pasta salad first take a large bowl and place the tortellini cheese, bell pepper, pineapple, sausage and parsley in the bowl and mix well. Next use the remaining ingredients and mix together to make the dressing for your Mediterranean pasta salad. Once this is complete, add the dressing to the salad ensuring that the salad is well coated in the dressing.
You might also like...