Cheese, Ham and Spinach Salad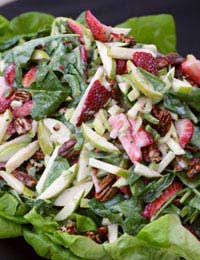 Ham and spinach salad can be lifted from the ordinary by adding various ingredients to it. Mustard powder and cheese are ideal for this.
Below are some interesting ways to liven up your ham and spinach with some exciting salad ingredients. Recipes give measurements for approximately two servings:
Cheese, Ham and Spinach Salad
To serve 2 requires

2 teaspoons of olive oil
2 oz of cheese
5 oz of ham
5 cherry tomatoes
2 tablespoons of honey
1 teaspoon of ground mustard powder
1 tablespoon of red wine vinegar
4 cups of spinach leaves
1 tablespoon of apple cider vinegar
1 teaspoon of water
7 slices of cucumber
First take a bowl and place the mustard powder and water together before whisking. Next set the bowl aside and cut the cheese into small cubes. Once this has been done take the cheese, tomatoes, ham,spinach and cucumber and place in a large bowl. Next take the honey, oils and vinegars and place in the first bowl, containing the mustard and whisk together. Then pour this over the salad and toss, ensuring that the salad is well coated. The salad is now ready to serve.
Adding Garlic
To make a spinach and ham salad even more adventurous, it is possible to add bread, garlic, asparagus and shallots. These can be added to make a warm salad.
Required ingredients for 2 servings are
5 shallots. These should be cut into wedges
3 oz of dark rye bread. This should have the crust removed and be sliced into cubes
4 oz of ham. This should have the fat removed and be torn to pieces
2 teaspoons of honey
2 tablespoons of lemon juice
3 cloves of garlic. This should be cut into thin slices
A pinch of salt and pepper
1 tablespoon of balsamic vinegar
10 oz of asparagus that has been cut into short pieces
10 oz of baby spinach leaves
1 oz of Parmesan cheese shavings
2 tablespoons of olive oil
First take the bread cubes and toss in 1 tablespoon of olive oil,ensuring that the bread cubes are well coated. Next place on a baking tray and bake for approximately 5 minutes in an oven at gas mark 6(200C).By this time the bread cubes should be crisp. Next take the asparagus and cook in the remaining olive oil, over a medium heat. This should take approximately 5 minutes. During this time it is important that the asparagus is not stirred. Next gently turn the asparagus over and, after adding shallots and garlic, cook for an additional 3 minutes. Once this has been completed place the ham in with the asparagus, shallots and garlic before cooking for approximately 3 minutes.
Constantly Stir
During this time it is important to constantly stir the ingredients. Next, using a slotted spoon, remove the ham, asparagus and shallots from the pan and place them in a bowl. It is important to keep them warm. Once this has been done take the balsamic vinegar, honey and lemon juice and place in the pan. Ensure that these are stirred well so that they mix with the cooking juices. The spinach then needs to be added and this should be cooked for approximately 3 minutes and seasoned with salt and pepper. The salad is now ready to serve.
You might also like...